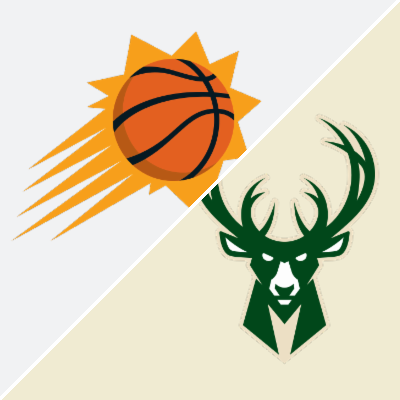 Phoenix Suns (65–26 55-34-2 ATS) at Milwaukee Bucks (59-33 43-49 ATS)
After getting beaten badly in the first two games of this series on the road the Bucks laid a 20-point beat down on the Suns in Game 3 to get back in the series. This NBA finals game can be seen on ABC.
The Bucks covered the spread as a 4.5-point favorite in Game 3 and oddsmakers have them as a 4-point home favorite with a total of 220.5 in Game 4.
In the 120-100 blowout win in Game 3, Milwaukee shot a lower FG% than the Suns (48.2% to 47.8%), but shot the 3-pointer much better, had more than twice as many offense rebounds, and had seven fewer turnovers.
While Phoenix failed to cover in Game 3 they have covered the spread in six of their last eight road games.
The home team has won and covered the spread in all three games of this series.
Can't Regroup after Second Quarter
The Suns got off to a good start in the Game 3 loss with a three-point lead after the first quarter but never regrouped after being outscored 35-17 in the second quarter. Phoenix was down by as much as 25 points and no player scored more than 19 points.
Devin Booker had played well in the first two games of this series but in the last one only had 10 points on 3/14 shooting missing six of his seven 3-pointers. Chris Paul and DeAndre Ayton each had decent shooting games and combined for 37 points, but Mikal Bridges only had four points after combining for 41 points in Games 1 and 2.
Phoenix has to shoot the deep ball better, as in Game 3 made nine of them while hitting 20 in the previous game.
The Suns are 20-6 ATS in their last 26 games following an ATS loss.
Giannis Gets Some Help, Finally 
In the Game 3 win the Bucks' supporting cast stepped up to help the Greek Freak. He had another big game going for 41 points, after scoring 42 points in Game 2, and got help from Kris Middleton and Jrue Holliday.
Middleton had 18 points in the last game after only going for 11 in Game 2 and Holliday, who really struggled with his shot in the first two games, went for 21 points on 8/14 shooting and hit five of his 10 3-pointers.
Milwaukee only gave up 100 points in the Game 3 win after giving up 118 in the first two games of the series.
In winning their last three playoff home games the Bucks have outscored their opponent by an average of 21.6 ppg.
The Bucks need to repeat their Game 3 blueprint where they had more balanced scoring and outscored the Suns 54-40 in the paint.
Milwaukee has covered the spread in five of their last six home games.
The Prediction 
The Bucks have been more than impressive in their last three home games and they will come out in Game 4 and play well yet again on their floor. The supporting cast will step up and Milwaukee will play good perimeter defense. The Suns will put up a better fight in Game 4 than in Game 3 but with the Bucks back in the series Giannis and company will get it done again at home and win and cover tying this series at two games apiece.
PICK: Bucks -4.5