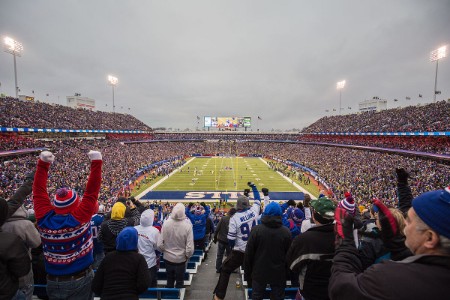 The Broncos are having a tough season at 3-7, and the worst loss may have come last week when they were up 20-0 on the Vikings at halftime and lost 27-23.
That type of loss can really crush a team's spirit and with the season basically over it might be hard for this team with a backup quarterback to flick the switch and come back strong on the road this week against a tough Bills defense. 
The Bills got a nice bounce back win last week against the terrible Miami Dolphins, led by a great game from QB Josh Allen, who had 3 touchdown passes with 2 of them going to star wide out John Brown. Rookie running back Devin Singletary continued his strong second half of the season with 15 carries for 75 yards. 
Both of these teams have a strong defense, with Denver only allowing 19.7 ppg and Buffalo allowing 17.0 ppg, which is probably the biggest reason the over under has been set at 37.5 points this week.
The Broncos back up QB Brandon Allen has not looked very strong this season, and the running game duo of Lindsay and Freeman have been a real disappointment compared to their great numbers from last season.
One bright spot has been WR Courtland Sutton, after the trade of WR Emmanuel Sanders it has really allowed Sutton to shine. He had a big game last week with 5 catches for 113 yards and looks to be the star this offense needs moving forward.
Josh Allen has been fairly consistent this year, which is a big step in the right direction as many scouts who watched his sporadic college tape didn't think he would be able to control the big swings of good and terrible games that he had at Wyoming.
With 13 touchdowns passing is already more than he had all of last year, but the real boost he can provide this team is his scrambling ability, he has 7 rushing touchdowns this year, with many coming at the goal line where his 6'5" frame is hard to stop. 
He only has 331 yards on the ground this year, compared to 631 last year but the extra option it allows the team to use in a tough spot has been big this year, as they are 7-3 and a wild card team if the season ended today.
Predicted Score – Broncos 16 Bills 14