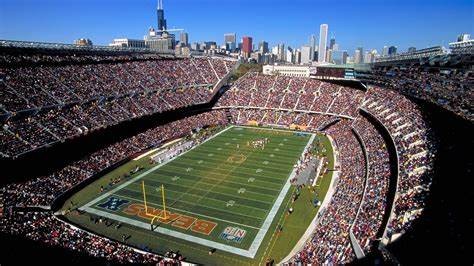 L.A. Chargers vs. Chicago Bears – Week 8 NFL Betting Analysis
L.A. Chargers (2-5 1-4-1 ATS) at Chicago Bears (3-3 2-4 ATS)
The Chargers have lost three in a row and they head to the Windy City as a 4-point underdog to take on the Bears, who have lost two in a row. The total for this non-conference game is posted at 40.5.
This game is one between a couple of disappointing teams so far this season, as both made the playoffs last season but that looks unlikely this season.
The public has backed the Chargers in this one, as they opened as a 5-point underdog and as of Wednesday are a 4-point underdog.
The Chargers looked headed for a win in their last game, which was a 23-20 loss to the Titans, when they had two TD's called back with less than a minute left.
The Bolts have the league's 3rd ranked passing offense, but only rank 27th in rushing yards per game and tied for 23rd in ppg.
The Bears lost to the Saints 36-25 in their last game where they made a valiant effort to come back but fell short and they were outgained 424 yards to 252 yards.
Chicago is known for their defense, but that D has not been dominant in the last two games giving up 60 points while in the previous three games they only gave up 25 points.
The Bears have covered the spread in four of their last five games facing the Chargers.
Can't Put it Together
The Chargers simply have not been able to put it together this season and the run game has simply not been there.
Phillip Rivers has passed for 2,114 yards with 11 TD and 6 INT and three players for LA have at least 350 yards.
The Chargers thought they would get a boost when Melvin Gordon ended his holdout but in his three games since coming back, he has rushed for a grand total of 81 yards averaging a paltry 2.3 yards per carry. His playing time has pushed Austin Ekeler out of the starting RB spot, but he ranks 2nd on the team in receiving yards and had 118 of them in the loss to the Titans.
Hard to believe but the once great defense of the bears does not rank in the top 10 in the league against the pass (13th) or against the run (12th).
The Bears D has to Get Back on Track
The Chicago defense must get back on track for this game, as they have to be the dominant force for a team that ranks 29th in passing yards per game and 28th in rushing yards per game.
Mitchell Trubisky has taken a lot of heat this season for his less than stellar play and in his first game after missing two with an injury in the loss to the Saints he played well. He was 34/54 for 251 yards with 2 TD and no INT but the Bears were playing catchup and Trubisky had to air it out.
Chicago only rushed for a grand total of 17 yards in the loss to the Saints and rookie David Montgomery has not had a good first campaign. He leads the team with 231 rushing yards but is only averaging 3.3 yards per carry and has 31 rushing yards on 17 carries in the Bears two straight losses.
Montgomery will have a lot of pressure on him in this game, as expect a big workload facing the big weakness of the L.A. defense, which is their 21st ranked run defense.
Our Prediction
While the Chargers are 1-5-2 ATS in their last eight games they are 8-2-1 ATS in their last 11 road games.
The Bears have failed to cover in five of their last seven games.
Something keeps telling me the Chargers are going to click some time, as they have so much talent. Rivers will have a good game and the Bears defense will not be great for the 3rd straight week. I see a close one in the Windy City in this one and while the Chargers may not win they will cover the spread.
 PICK: Chargers +4