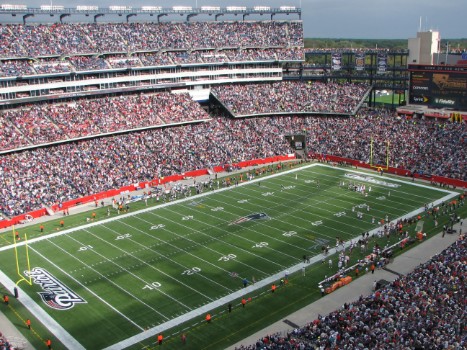 Dallas Cowboys (6-4, 6-4 ATS) vs New England Patriots (9-1, 7-3 ATS)
In a game constantly speculated as a potential Super Bowl matchup, the Cowboys are 6 point underdogs on the trip to Gillette Stadium in Foxborough, MA to play the Patriots at 4:25 p.m. ET on Sunday. Early line movement has them trending to 6-½ points. The total is 46.
The Patriots enter this game on the heels of a 17-10 road win over the Eagles after which QB Tom Brady lamented the inability of the offense to get points on the board. It may have been an ugly win, but they covered the spread with room to spare. The Cowboys, made heavy favorites over the Lions, did not disappoint, winning 35-27 and covering the spread.
Top offense meets top defense
After eleven weeks of football, the Dallas Cowboys rank #1 in total offense with 444.6 yards per game. They average 28.6 points per game. They will line up against a New England Patriots team that is #1 in total defense with 249.9 yards per game. These games, in which the unstoppable force meets the immovable object, are usually thrilling to watch.
The Patriots have taken many forms over the years, but this defense-based team has been almost unbeatable except for a game against Lamar Jackson which qualifies as a special circumstance.
When they meet in the playoffs, things might go a little differently. Frustrations over the lack of productivity from New England's 16th ranked offense are apparent, but with the defense playing so well they are at least good enough to win football games.
The Cowboys have looked great in streaks. There are times when QB Dak Prescott looks like he is an MVP candidate and the same can be said for RB Ezekiel Elliott. But unstoppable is definitely not a word you can use for them.
Dallas's four loses, to the Saints, Packers and Jets, are directly attributable to below average efforts from those players. The one exception is the game two weeks ago against the Vikings where they played well in defeat.
Dallas defense to decide outcome
This game is likely to come down to how well the Cowboys 8th ranked defense plays against what is a Patriots offense that has yet to prove it can score against good teams.
It seems much more likely that the Cowboys offense will "get theirs" against the Patriots defense than it is Brady and co might find a way to fix what clearly hasn't been working this year. Therefore, Dallas has the edge when it comes to winning this week 12 bout.
Don't expect them to light up the scoreboard on every play though. The Patriots defense figures to keep them in this game until the four quarter, but by then Dallas may have kept it close long enough to go in for the kill.
What would be especially crucial is if the Cowboys find a way to force turnovers. However, that is something they have mostly failed to do in 2019. For their part, the Patriots rank #1 in forced turnovers.
Our Pick – Patriots -6