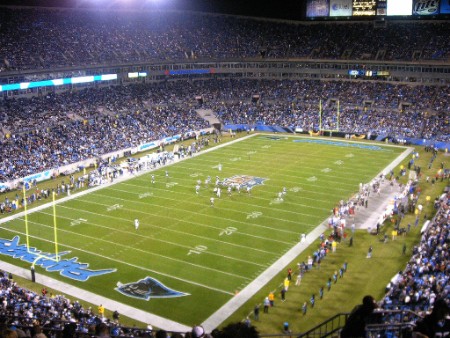 Carolina was inches away from taking home the win last week at snowy Lambo Field, as Christian McCaffrey was held out of the end zone just inside the 1 yard line as time expired.
The Panthers are now at 5-4 and 2 full games behind the Saints in the NFC South division. Backup quarterback Kyle Allen, who is now the full time starter after the team shut down Cam Newton for the season due to injury, looked pretty good on Sunday as he finished with over 300 yards and 1 TD and 1 interception. 
The Panthers once again relied on McCaffrey to carry them as he had a solid game with 108 yards on 20 carries with 1 touchdown and added 6 catches. Wide receiver DJ Moore and tight end Greg Olsen put up big numbers but the yardage didn't translate to points as the final score was 24-16. 
Atlanta had a huge upset win over the Saints last week; they completely dominated them with a final score of 26-9. The Falcons offense wasn't particularly impressive with Matt Ryan only having 182 yards and 2 touchdowns, but they were able to score on 6 drives with 4 field goals that kept extending the lead.
The defense was the real star as they held the high powered Saints offense to zero touchdowns on the day, a feat not many teams can claim.
On Sunday the Panthers will be 5.5 point favorites as they attempt to fight for a playoff berth. The game plan should include a ton of McCaffery, as the Falcons are allowing 111 yards rushing per game and a staggering 28.8 points per game.
The Falcons also have a starting RB Devonta Freeman listed as doubtful and breakout star Tight End Austin Cooper was also banged up and is listed as questionable.  With two stars potentially out the Falcons offense might not have the depth to keep up with Carolina.
The over under is set at 49.5 currently, which seems high as the Falcons only average 21.2 ppg and the Panthers only average 25.0 ppg.
Predicted Score – Panthers 35 Falcons 24