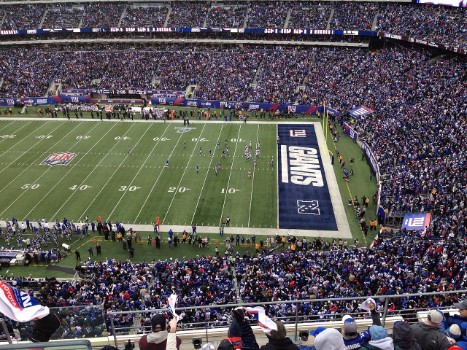 The New York Giants (2-7) will take on the New York Jets (1-7) on Sunday at 1 p.m. ET at Metlife Stadium. The Giants are -2.5 point spread favorites and the total is 43.
Both of these teams are having dismal seasons, but on the bright side for New Yorkers, only one of them can lose this week! There has been plenty of discussion about which team is worse and on Sunday that question will be answered with certainty.
Losing streaks
The Jets have lost three games in a row. The Giants are in even worse shape having lost five consecutive games. The season is lost for both teams and there isn't much left to play for other than pride, draft position and rivalry.
These teams have met just 13 times so far with the last meeting being a 23-20 OT win for the Jets in 2015. The Giants lead the all-time series 8-5.
The Giants and Jets both have young, inexperienced and mistake prone signal callers. QB Daniel Jones has been called the "future" by ex-Giant star Chris Canty. That could be true, but he certainly isn't playing like it right now.
Last week, he tossed three interceptions against the Cowboys and ultimately cost his team a chance to win. So far this year, Jones has passed for 1,676 yds, 11 TDs, 8 INTs and has the 22nd best QB rating at 47.8.
Sam Darnold has done the seemingly impossible, which is to say he is playing worse than Jones. In a three game span, he is 59 for 101 with 564 passing yds, three touchdowns and a whopping eight interceptions. Finding a way to only throw the ball to players on his own team will go a long way towards healing what ails the Jets.
Hapless offenses
The Jets rank last in the NFL in yards, points per game and passing yards. They are 30th in rushing. The Giants rank 24th in points per game and yards per game. They are 17th in passing yardage and 18th in rushing yardage.
Turnover differential is a problem for both teams as well. The Jets are 27th at -7 and the Giants are 30th at -10. Both teams are doing very little to nothing right and they make mistakes by the dozen.
Jets strong against the run
The Giants are bad on offense and defense. The Jets, however, can play a little bit of defense. They are very effective at stopping the run and they rank 6th in the NFL for that category. The run sets up the pass, obviously, and if the Giants are forced to the air then their chances of winning go way down.
Look for the Jets to force Daniel Jones into third and long situations where he figures to be sacked or throw a couple of interceptions before all is said and done. That could be the difference maker in this game, but it relies on a few "ifs". One such "if" is if they're playing well enough on offense to keep the defense rested and off the field for long spans of time.
Our Pick – Giants -2