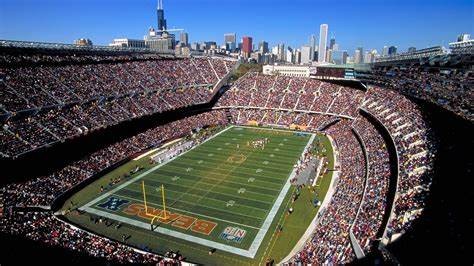 New Orleans Saints vs. Chicago Bears – Week 7 NFL Betting Analysis
New Orleans Saints (5-1 4-2 ATS) at Chicago Bears (3-2 2-3 ATS)
The 5-1 Saints put their four-game winning streak on the line taking on the 3-2 Bears, who are a 3-poiint favorite with a low total of 38.5.
What is impressive about the Saints win streak is that all the wins have been with backup Teddy Bridgewater under center with Drew Brees still out with a thumb injury.
The Saints have won two of their last three game with their great defense, which ranks 10th in the league.
When speaking of defense, the Bears have one of the best in the league ranking 6th. However, their D was not great in their last game and what a team they would be if they had an offense. They only rank 30th in the league in passing yards per game and 26th in rushing yards per game.
Chicago starting QB Mitchell Trubisky is listed as questionable for this game after missing nearly two games with an injury, However, he has struggled, big time, this season and backup Chase Daniel has moved the ball better.
The Bears had won three in a row before a rather surprising 24-21 loss to the Oakland Raiders in their last game. Their last game was in Week 5, as they had a bye last week, so they have that going for them.
These teams have not met since the 2017 season in New Orleans where the Saints beat the Bears 20-12.
D is the Key
In their last game in the win over the Jags the Saints defense was the key to the win holding them to 226 yards and they only gave up 75 rushing yards. Since Brees went out Bridgewater has passed for 1,089 yards with 7 TD and 2 INT and in the win over Jax he passed for 240 yards with a TD and no picks.
Alvin Kamara leads the Saints in rushing yards and receiving yards and in the win over the Jags he only rushed for 31 yards. In his previous two games he rushed for at least 62 yards in each one. Michael Thomas ranks 2nd in the league in receiving yards and that is also impressive with Brees out.
The Bears are, obviously, known for their defense, but they gave up nearly 400 total yards in their loss to Oakland and gave up 169 rushing yards.
Defense has to Play Better
The Bears' D has to play better than they did in their last game and this is especially the case since they have an offense that is only averaging 17.4 ppg.
In the Oakland loss Daniel passed for 231 yards with 2 TD and 2 INT but the run game was not there, as Chicago only had 46 rushing yards.
Rookie David Montgomery leads the Bears with only 225 rushing yards and on the season is only averaging 3,3 yards per carry. On top of that in his last two games he has failed to average over 2.5 yards per carry.
New Orleans ranks slightly higher against the pass (11th) than the run (14th), but the D as a whole has played well, for the most part, this season.
Trubisky may be back for this game, but can he unseat Daniel. He has only tossed 3 TD on the season and that came in one game over the 1-5 Redskins, who have one win and only rank 25th in the league on defense.
Our Prediction
The Saints have covered the spread in their last four games but have failed to cover in five of their last seven games facing a team with a winning record.
The Bears are 0-5 ATS in their last five games after a bye week.
The Bears have the defense, which was not great in their last game, but their offense has struggled all season. That will happen again in this game and while a lower scoring affair New Orleans will cover the spread and this is a good game to take the moneyline, as I think they will win the game as well.
PICK: Saints +3