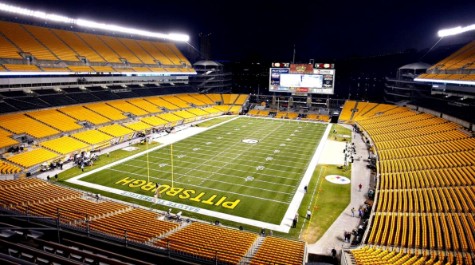 It's NFC versus AFC when the Rams head to Heinz Field in Pittsburgh, PA to square off against the Steelers on Sunday at 4:25 p.m. ET.
The Numbers
Baked into a point spread in which they are three-point favorites is the fact that the Rams enter this game on extra rest and are coming off a bye week. More importantly, Sean McVay, one of the best in the world at what he does, got an extra week to figure out where the Steelers are vulnerable. Betting volume shows the public backing the Rams 56% to 44%.
The total opened at 45-½, but was as low as 43-½ at some sportsbooks as of Thursday morning. The action seems to be pushing the other way after the initial drop and 57% of bets are on the under.
Steelers must prove they belong
They're treading water at 4-4 in Pittsburgh and some pundits are high on them after they pulled off a 26-24 upset over Indianapolis Colts (5-3) last week.
But, the way you win also matters and the Steelers were essentially gift wrapped a FG and a very questionable (ball wasn't catchable!) pass interference call kept them alive on a drive that ended in a TD.
To top things off, K Adam Vinatieri uncharacteristically missed what would have been a game winning 43-yd FG with about one minute left in the game.
Pittsburgh's other wins? 27-3 over the Cincinnati Bengals (0-8), 24-17 over the Los Angeles Chargers (4-5) and 27-14 over the Miami Dolphins (1-7). None of those teams are anything like the one they're going to line up against this week.
Injury report
WR Brandin Cooks, still on concussion protocol, is out for the Rams. McVay hoped to have him on the field and even went as far as sending him to a specialist in Pittsburgh, but was sent home after being declared unfit to play. LB Clay Matthews will return after missing time because of an injury to his jaw.
For the Steelers, LB James Connor, is still questionable, but is expected to play. Connor, a third round pick in 2017, made the Pro Bowl just one year later in 2018.
Rams o-line vs Steelers d-line a key matchup
One thing really stands out when you watch replays of the Los Angeles Rams and that is the strength of their offensive line. QB Jared Goff gets ALL DAY to stand in the pocket and look for his favorite target, who he hits often, WR Cooper Kupp. Together, they put on a clinic against the Bengals and Kupp had 7 catches for 220 yds, a long catch of 65 and 1 TD.
This game could come down to whether or not the Steelers can get pressure on Goff. If they do, they might have a shot, but if they can't then they are in for a long day. Anything can happen in a game like this, but the Rams are definitely the proven commodity.
Our Pick  – Steelers +3.5