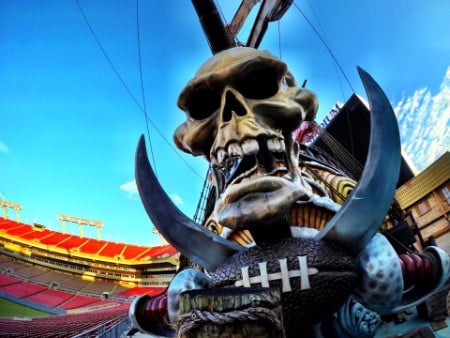 The Arizona Cardinals (3-5-1, 6-3 ATS) travel to Raymond James Stadium to play the Tampa Bay Buccaneers (2-6, 2-6 ATS) on Sunday at 1 p.m. ET. The home-team is favored by 4-½ points. The total opened at 53-½, but has dropped to 52 at most online sportsbooks.
The O/U is 5-4 in games played by the Cardinals this year and 6-2 in Buccaneers games. Wagering action favors the Cardinals who have taken 57% of spread bets and 67% of moneyline wagers.
Tampa Bay must limit turnovers
The Buccaneers rank number one in strength of schedule and have lost close games to very good teams. They are 2-6, but they are much better than that. SOS isn't the only thing getting in the way of them winning. They're turning the ball over too much! Their -5 turnover differential ranks near the bottom of the league.
The turnover situation could be remedied by benching QB Jameis Winston who is tied for the league lead with 12 picks so far this season. But, that won't happen this week.The #1 pick from the 2015 NFL Draft threw as many as five picks in a single game this year. QB wizard Bruce Arians has been trying to rehab Winston's career, but it isn't looking good. The guy is an interception factory.
QB Kyler Murray rising
This year's #1 overall draft pick, Kyler Murray, had a rocky start to his career, throwing one interception per game in his first four starts whilst being sacked 20 times in that span that ended with a 0-3-1 record.
Since then, he has settled down and settled in. In the last five games, Murray has zero turnovers, three wins and a passer rating of 101.2. Largely contributing to the improvement is an offensive line that is playing twice or three times as good now as they were in the first handful of games this year.
Murray will face off against the NFL's 23rd best defense. The Bucs total defense numbers are dismal at 371.6 ypg. Their passing defense is even worse as they rank 31st of 32 teams. We could see career best numbers from Murray this week.
Tampa facing weak defense
The Buccaneers are chock full of offensive weapons and although Winston has been bad he does have the advantage of playing the NFL's 31st ranked defense. Weapons like WRs Chris Godwin and Mike Evans might see the end zone multiple times each in this game. It will be up to RBs Peyton Barber and Ronald Jones to pick up yards on the ground and open up the passing game.
The pressure is on for Jameis Winston. The media in Tampa are saying he will be a backup QB next year. This guy was a Heisman winner and national champion at Florida State.
Now, his back is against the wall and we're going to find out how good he really is. Something tells me against one of the worst defenses in the NFL he's going to respond in a strong way. Either way, all signs point to a high scoring game.
Our Pick – Bucs -4.5 and Over 52