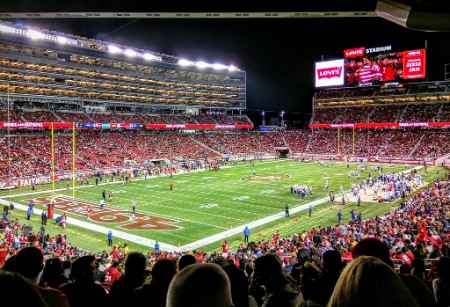 Seattle Seahawks (7-2, 4-4-1 ATS) vs San Francisco 49ers (8-0, 5-3 ATS)
Russell Wilson and the Seahawks are attracting 55% of wagering action as 6-½ point underdogs in their trip to San Francisco to play Jimmy Garappolo and the 49ers. The total is 46-½ points.
49ers dominant on defense
Legendary San Francisco QB Steve Young was quoted saying this years defense is the best his former team has fielded in more than 20 years. They rank first in total defense at 241 ypg and first in passing defense at 138.1 ypg. This is especially noteworthy given the dominance of the Patriots defense. Statistically, the 49ers are even better.
The front four includes names like Dee Ford and Nick Bosa. Between them, the DEs have 12-½ sacks so far this year. Ford has only played 39% of defensive snaps this year, but he's a dynamo when on the field. It was reported this week that the front office in San Francisco drafted Bosa specifically to compliment Ford. Clearly, that was a terrific decision.
Russell Wilson MVP favorite
Thanks in part to a 22-1 TD/INT ratio as well as helping his team get off to the best start since they won the Super Bowl in 2013, Wilson is a 3-1 favorite to win MVP honors as of this week.
Wilson, put simply, is one of the best QBs in the league. Not only does he prepare as well or better than anyone else, but he slips and slides past opposing defenders in the backfield as he goes through his reads as easily as an average person ties their shoes.
He faces a daunting challenge in the form of the 49ers defense. While Wilson is an elite player, he can't do everything himself. What's more, this defense held a fiery Tampa Bay offense to just 17 points.
Carolina mustered only 13 points and the Rams got 7. If they can hold those teams to such low scoring totals, then there is a legitimate chance they will shut Seattle down too. This game might get ugly if that happens.
Jimmy Garappolo hot
The blockbuster trade San Fran made to get Garappolo from the Patriots is paying dividends. Last week, when his team needed him the most, he put in his best effort. He completed 28 of 37 passing attempts for 317 yards, 4 TDs and zero interceptions whilst beating the Arizona Cardinals 28-25. Right now, he's playing with tons of confidence.
Seattle needs D to show up
If Seattle is going to keep this game competitive they need a strong showing from their 25th ranked defense. You can bank on the 49ers getting plenty of defensive stops and if they are going to stay in the game they will have to match that effort.
The Seahawks are ranked 13th against the run and they face the 8th ranked rushing team this week. While Garappolo is playing well, there is still a chance they might force him to make mistakes if they can get him in third and long situations.
Our Pick – 49ers -6