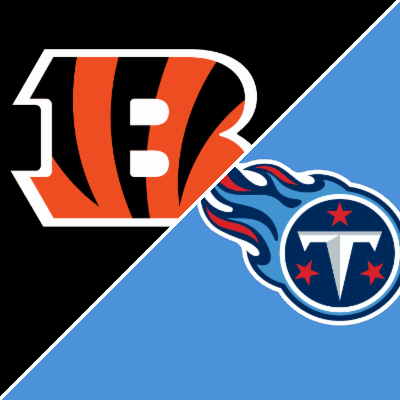 The Divisional round of the 2021-2022 NFL playoffs kicks off on Saturday afternoon with the Tennessee Titans hosting the Cincinnati Bengals. The Titans opened as -3 point favorites and early Titans money has pushed that number to -3.5. The total is 47.
There are some question marks surrounding this game that make it impossible to to handicap as of this writing on Tuesday. Many of the answers to those question marks likely won't come until hours before kickoff.
We'll touch on those question marks and will then offer a look at the game as if both teams were 100%.
Derrick Henry and the Bengals Defense
The first question mark is Derrick Henry. The star running back comes back after being out due to an injury that required surgery in week 8. How impactful will he be? You can't just flip a switch after being out half a season.
The 2nd big question mark is the Bengals injuries on the defensive side of the ball. Stud tackle Larry Ogunjobi is out but it doesn't end there. Top defensive line backup, Josh Tupou, and veteran Mike Daniels also suffered injuries as did sack leader Trey Hendrickson.
Those are the types of injuries to the Bengals 5th ranked rush defense that could create a game, set, match situation for the Titans.
Let's take a quick look at some predictive metrics as if both teams were at 100%. We get it, they aren't. Or, at least the Bengals aren't. But it's a starting point.
Our Model Says…
Our Model uses data from different time frames to predict a score. Here are those results.
Cincinnati                47.0          23           
Tennessee                 -3.5          25 full season data
  
Cincinnati                47.0          22           
Tennessee                 -3.5          21 last 4 games
  
Cincinnati                47.0          26           
Tennessee                 -3.5          16 last 7 games
As you can see, no matter which time frame we use, the model says the Bengals +3.5 are the play. In fact, 2 of the three predict an outright Bengals win.
Yards per play is another favorite metric of NFL handicappers. It's not rocket science. Gain more yards than your opponent offensively and do a better job than them defensively and you'll have a good chance to win.
This past weekend there were 6 playoff games. In 5 of those 6 games one team had a significant edge with this stat. The only game where there was no edge was the Bengals/Raiders game. They were even.
In the other 5 games, all of the winners were the teams that had the edge. If you only used this stat last week, you went 5-0.
Here's a simple chart with a couple of key metrics.
| | | | | |
| --- | --- | --- | --- | --- |
| | ypp off | ypp def | yards per play | per point diff |
| Cin | 13.3 | 16.1 | 0.3 | 2.8 |
| Ten | 13.9 | 15.8 | -0.3 | 1.9 |
We have two stats above. We have the offensive and defensive yards per point numbers for each team along with the yards per play differential. The column on the far right is the yards per point differential.
You can see that the Bengals are +0.3 and the Titans are -0.3 in yards per play differential. There were 14 teams that made the playoffs and the only other team with a negative yards per play differential was the Steelers. Edge Bengals.
Using the yards per point differential, the Bengals would be roughly a point better on a neutral field.
Certainly, with both teams 100%, the Bengals would be worth a strong look here. In fact, they still may be.
Can't Win Without A Stud QB
One thing that's clear in the NFL and always has been. You don't win playoff games and championships without a stud QB. This past weekend drove that point home even further. Kyler Murray and Dak Prescott are prime examples. Their performances were comical.
Look at the remaining QB's in the playoffs. Brady, Rodgers, Stafford, Mahomes, Allen, Garoppolo, Tannehill and Burrows. Three have SB rings. Burrows is the new kid on the block but there are very few who follow the NFL that doubt he'll join that elite class when all is said and done. Same can't be said about Tannehill.
We'll look at the Bengals still, as a potential play as the week goes on. But for now, the UNDER may be worth considering. The Titans are going to try and control this game on the ground and attempt to keep Burrows and company on the sidelines. If they are successful, we may see a game in the low 40's or less.
UNDER 47