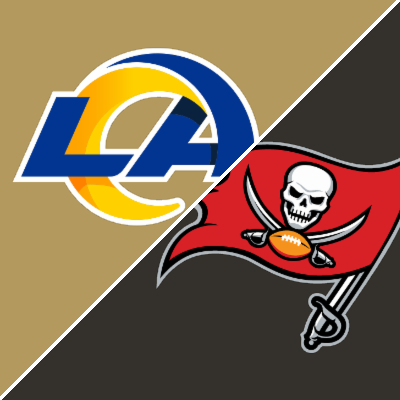 The Divisional round of the NFL playoffs will continue on Sunday with Tom Brady and the Tampa Bay Buccaneers hosting the Los Angeles Rams. The Bucs are -2.5 to -3 point favorites as of Thursday afternoon with a total of 48.5.
We've taken a look at some simple predictive metrics and our model for the playoff games thus far and we'll do the same here. We'll start with our model.
Our Model Says…
LA Rams                   48.0          24           
Tampa Bay                 -3.0          29 full season data
  
LA Rams                   48.0          30           
Tampa Bay                 -3.0          20 last 4 games data
  
LA Rams                   48.0          21           
Tampa Bay                 -3.0          19 last 7 games data
  
With the model we see a narrow Bucs win when taking the entire season into account. However, when looking at the most recent games, using data from the last 7 and last 4 games we see the underdog Rams predicted to win outright.
Here's a chart with yards per play and yards per point stats.
| | | | | |
| --- | --- | --- | --- | --- |
| | OFFYPP | DEFYPP | per play | YPP DIF |
| RAMS | 13.6 | 15.8 | 0.8 | 2.2 |
| BUCS | 13.4 | 16.2 | 0.8 | 2.8 |
Can't get much tighter than that. An ever so slight edge for the Bucs on both sides of the ball using yards per point.
We mentioned in previous articles how the team with the yards per play edge won and covered every game last week. Well, no edge here as both teams differential is 0.8.
Lastly we also take a look at the yards per point numbers over the last 7 games. Again, this can be indicative of current form, similar to the way we run the model using recent time frame parameters.
| | | |
| --- | --- | --- |
| RAMS | 12.9 | 16.5 |
| BUCS | 14 | 18.4 |
No surprise. The Rams get the edge offensively and the Bucs defensively. All of these numbers point to the betting line being right on the money which of course is always going to be the case with the NFL. It's not as if you're going to find a soft line!
Our Pick
This looks to be one heck of a game. The Eagles were getting to Brady last week. They sacked him 4 times and pressured him a bunch more. With the Bucs offensive line banged up, you can be sure the Rams will be in Brady's face all day.
But Brady isn't Kyler Murray. For starters, he can see over the offensive line. That's not an attempt to be funny by the way. It's just a fact.
The Rams were 2-5 against playoff teams during the regular season. Two of those losses were to the 49ers. The Bucs were 4-1 against playoff teams but of course that loss came in Los Angeles to these Rams, back in September.
The offensive line of the Bucs is going to be the key to this game. If they aren't up to the task, it's going to be a long day for Brady. But if they can at least do a half way decent job then this game likely comes down to the last drive.
Instead of a side in this game we're going to make a small play on the total. Both of these defenses came up big last week and in general have been good. Our model, when using data from the last 7 games has a total of 40 points being scored.
A small play UNDER 48.5