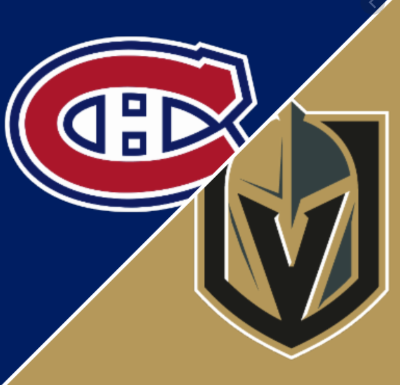 Vegas Golden Knights (48–18–4) at Montreal Canadiens (33-24-11)
The Canadiens got back to playing good defense in winning Game 2 tying this series with Game 3 north of the border. This game can be seen on NBCSN.
Even in losing Game 2 and on the road the Golden Knights are the betting favorite in this game at -170 with the Canadiens at +150 and a total of 5.5 goals.
The Golden Knights had won five in a row before the 3-2 loss in Game 2 of this series. They had scored 10 goals in two games before only lighting the lamp twice in the last game.
The Canadiens won Game 2 with a solid defensive effort, which was not the case in the 4-1 Game 1 loss. That loss was their only one in their last nine games and in winning their last three home games they have only given up five goals.
Vegas has won 19 of their last 26 road games as a favorite.
Not a Good Start
In the Game 2 loss the Golden Knights were down 2-0 after the first period and down 3-0 until late in the second period. Alex Pietrangelo scored both of the goals in the losing effort and in the game where Montreal was outshot 31-23.
Marc-Andre Fleury (26-10-0 1.98 GAA) did not have a great game in between the pipes giving up three goals on 26 shots. While ranking second in the playoffs with a GAA of 1.92 and only gave up one goal in the Game 1 win he has given up three goals in two of his last three starts.
William Karlsson leads Vegas with 13 points (4 goals 9 assists) in the playoffs and he has had an assist in each game of this series. Jonathan Marchessault has six goals to lead the club but after five goals in three games he has not registered a point in the last three games.
The Golden Knights are 9-2 in their last 11 after scoring 2 goals or less in their previous game.
Good Start and Solid D Helps Even Series
The Canadiens got off to a great start in the Game 2 win and only allowed two goals to a Vegas team that is averaging 3.06 goals per game in the post-season. Joel Armia, Tyler Toffoli, and Paul Byron.
A good start is key for Montreal, as they are 9-1 in the playoffs when scoring first and the one loss in that span was in Game 1 of this series.
Carey Price (12-7-5 2.64 GAA regular season) shook of a poor Game 1 performance by turning away 29 of 31 shots in the Game 2 win. In his last four starts he has only given up more than two goals once and that was in the last game.
Toffoli leads Montreal with 12 points (5 goals 7 assists) in the post-season and he has two goals and two assists in the last three games.
Defense for Montreal is vital in this game for a team that is only averaging 2.31 goals per game in the playoffs.
The Canadiens are 4-1 in their last 5 after allowing 2 goals or less in their previous game.
Prediction 
The Canadiens turned the tables in Game 2 only allowing two goals while they allowed four in the Game 1 loss. I look for Vegas to bounce back in this game and for them to get off to a better start and play well on both sides of the ice. Montreal is playing with house money as the major underdog in this series and all the pressure is on Vegas. They will step up in this game and be solid on D and on the attack and while the Canadiens will give them a tough game the Golden Knights will get the win and take a 2-1 series lead.
PICK: Golden Knights -170