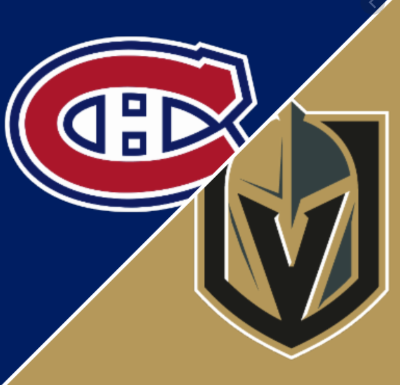 Montreal Canadiens (34-25-12) at Vegas Golden Knights (50-18-5)
After losing two games in this series the Golden Knights played killer D in Game 2 to know this series at two games apiece. This game can be seen on NBCSN.
Back in Sun City the Golden Knights are a huge betting favorite in this game posted at -235 with the Canadiens at +195 and the total sitting at 5 goals.
The Cinderella Canadiens had scored six goals in the two wins in this series before only scoring one in the last game. They are the huge underdogs in this series and they already have one win in Las Vegas and have won five of their last six road games.
After scoring four goals in the Game 1 win Vegas, who ranked third in the regular season averaging 3.39 goals per game, has only scored two goals in each of the last three games.
Montreal has won six of their last eight games facing the Golden Knights.
One and Done
In Game 4 the Montreal attack was not there, as they lost to the Golden Knights 2-1 in OT. Paul Byron scored the lone goal in the loss and they outshot Vegas 28-21.
Carey Price (12-7-5 2.64 GAA) allowed two goals on 21 shots in the Game 4 loss and he has allowed two goals in each of the last three games. He has played very well in the playoffs and ranks fourth among goalies with a 2.09 post-season GAA.
Montreal has been winning in the playoffs with their defense, as they are only averaging 2.40 goals per game.
Tyler Toffoli is tied for the Montreal lead in the playoffs with five goals and leads them with 12 points and after two goals and two assists in three games he has failed to register a point in the last two games. Joel Armia also has five goals, to go along with three assists, and he has failed to register a point in four of his last five games including his last two.
Gutsy Call Pays Off
In. Game 4 Vegas coach Peter DeBoer benched Marc-Andre Fleury, who had started 15 of 16 playoff games, for Robin Lehner, who had given up seven goals in his only playoff start, and it paid out with him turning away 27 of 28 shots in the 2-1 OT win.
Fleury (26-10-0 1.98 GAA regular season) has given up three goals in each of his last two starts and a starter has not been named for Game 4.
In the last game Brayden McNabb scored the game-tying goal in the second period and Nicolas Roy played the hero scoring the game-winner 1:18 into overtime.
The Vegas attack simply has not been in sync in this series and Roy and Mattias Janmark are the only forwards to score in this series.
William Karlsson leads the Golden Knights with 14 points (4 goals 10 assists) in the playoffs and he has three assists over his last four games. Jonathan Marchessault leads them in the post-season with six goals but has not scored one in this series.
Prediction 
The last two games of this series have gone to overtime and I think this game will be close as well. Montreal is the team with no pressure on them, as they are major series underdogs and their defense has played great only allowing two goals in each of the last three games. Going out on a limb and taking them in this game in Vegas, as I think their D will come up big again and they will win and take a 3-2 series lead.
PICK: Canadiens +195