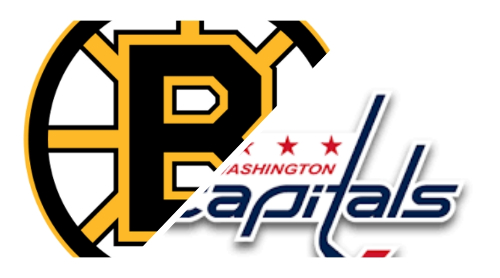 Washington Capitals (37-15-7) at Boston Bruins (35-16-8-37)
The Bruins have won the last two games of this East Division playoff series and look to take a commanding 3-1 lead with a home win in Game 4. This game can be seen on NBCSC.
(At time of writing odds are not posted for this game but check back as the will be posted soon).
The Capitals have lost the last two games of this series where all three games have gone to overtime. The team ranks tied for fourth in the league averaging 3.36 goals per game but their offense has not been great in the series where they have totaled eight goals (2.66 goals per game).
The Bruins were 3-4 in the regular season against the Caps and lost to them in their season finale. While Washington ranks tied for fourth in goals per game Boston ranks tied for fourth in goals against per game (2.34) and they have played solid D in this series.
The Capitals did lose Game 3 on the road but have won 10 of their last 14 games against the Bruins in Boston.
Big Time Error
In the 3-2 double OT loss to the Bruins in Game 3 Washington G Ilya Samsonov left a puck behind the net in the second overtime rather than clearing it and a Boston player pounce on it and score before Samsonov was back in position.
Alex Ovechkin and Nic Dowd each scored in the losing effort where the Caps were outshot 43-37.
Samsonov (13-4-1 2.69 GAA) stopped 40 of 43 shots in the loss and that was his first start in this series. Vitek Vanecek (21-10-4 2.69 GAA) was injured in Game 1 and is a question mark in this game. 39-year old Craig Anderson (2-1 2.13 GAA) finished Game 1 and started in Game 2 and in those games gave up five goals on 70 shots. He sat out Game 3 but is available for Game 4 where a starter has not been named.
Ovechkin led the Caps in goals in the regular season with 24 and he had not scored in six games before a goal, as well as an assist, in the last game. Nicklas Backstrom led the team with 53 points (15 goals 38 assists) but he has failed to register a point in this series and in his last five games overall.
The Caps' attack has not been in sync in the last couple of games and they need their veterans to step up and change that or they will likely go down 3-1 in this series.
On the season Washington tied with Vegas for the most road wins and they had won four in a row on the road before losing Game 3.
Smith Comes Up Big In the Clutch
Craig Smith was clutch in the Game 3 double OT win stealing the puck behind the net and scoring the game-winner and he also assisted on the first Boston goal.
Taylor Hall and Brad Marchand scored in the win and Tuukka Rask (15-5-2 2.28 GAA) stopped 35 of 37 shots. He has started all three games in this series and has played pretty well giving up eight goals in the three games and I would think he would get the call in Game 4.
Hall, Marchand, and Jake DeBrusk have all lit the lamp twice in this series and Smith has a goal and two assists. In the regular season Marchand led the Bruins in points (69), goals (29), and assists (40) and he has four goals and two assists over his last four games.
The Bruins look to keep up the solid defense against a Washington team that will come out firing in Game 4, as they need a win to get back in this series.
Boston is 19-7-3 at home on the season and they have won nine of their last 10 home games.
Prediction
The Capitals are 4-0 in their last 4 games after scoring two goals or less in their previous game while the Bruins are 0-4 in their last 4 games after allowing two goals or less in their previous game.
The Bruins have played solid defense in the last two games against a more than solid Caps' attack. However, I see Washington breaking out in this game and scoring a few goals. The Bruins will also play well on the attack but not as well on the defensive side of the ice. I see another close game in Game 4 but this time around Washington will get the win and even up the series at two games apiece.
PICK: Capitals