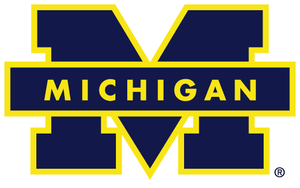 2/9/19
Less than a month ago, Wisconsin was sitting with a 3-3 Conference record having lost Four of five and it was looking like another lost season. And then something changed when the Badgers beat Michigan in Madison, starting a six-Game winning streak and a move to only one Game back in the Big Ten standings. The Wolverines escaped that loss without many scratches and return home where they've won all but one Conference Game by double digits.
When these teams first met, neither had a lead larger than Four until around five minutes to go and that could easily happen again. Like most Wisconsin Games, this will likely be a low-scoring battle with the Wolverines getting the edge at home. There were a few outliers for Michigan in the first meeting, namely Charles Matthews and Ignas Brazdeikis combining for five points. It was a weird performance for those two guys, more so Brazdeikis who has at least 14 points in the five Games since that loss. Some of that had to do with Ethan Happ on defense and getting into foul trouble early, but it was odd for Michigan's leading scorer to only take five shots.
These are the two best defenses in the Conference according to efficiency and that showed up in the first Game except for Happ. The Wisconsin senior did everything in the win, dropping 26 points, 10 rebounds and seven assists while no one else on the team had more than eight points. Expecting a duplicate performance is a stretch, but Brad Davison's willingness to take more shots in recent weeks could help that.
Still, winning at Crisler Arena will be a tall task for Wisconsin because role players like Kobe King and Aleem Ford won't make all of their threes and combine for 15 points again. Instead, Isaiah Livers will fill that role for the Wolverines. To have a chance for an upset, not only does Happ need a similar performance but the known guys also have to play well between Davison and D'Mitrik Trice. Nate Reuvers also has to stand his ground defensively whether that's against Brazdeikis or Jon Teske.
There's no question Michigan will get more from Matthews and Brazdeikis, but that also means Teske probably won't Score15 points again. There are a lot of interesting matchups in this Game and while most will point to Happ against Michigan's bigs, the one in the backcOurt could be just as big between Zavier Simpson and Davison. They are two of the best defensive guards in the conference, but Simpson does a little more for his team averaging 5.3 boards, 6.0 assists and more than 12 points per Game in Big Ten play. His effectiveness usually shines through at home as seen in the triple-double a couple weeks ago against Ohio State. When Simpson struggles, this team usually has a few more issues and that'll be the goal for Davison and Trice.
However, Michigan was only competitive last meeting because of Simpson with 11 points, 10 rebounds and six assists and if he can put in a similar effort, Wisconsin may not have a chance to ride Happ the entire way. If Simpson plays his Game and guys like Jordan Poole, Matthews and Brazdeikis play like they have all season, the Wolverines get the advantage at home.
Our Pick – Wisconsin +2.5