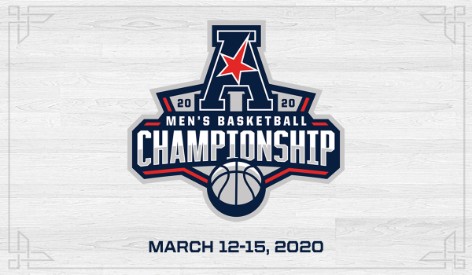 AMERICAN ATHLETIC CONFERENCE
Dickies Arena, Fort Worth, Texas
March 12-15
CINCINNATI
Record: 20-10, 13-5
Cincinnati is looking to win this tournament for the third-straight year, but while it's the 1-seed, it's not favored. The Bearcats somewhat luckily got the 1-seed, as they went to overtime in four-straight games at one point and most recently won by just one point in the season finale against Temple.
Maybe going in their favor the most is that they need a win or two to make the NCAA tournament because they're sitting on the bubble at the moment. They didn't do enough in non-conference play and the AAC isn't good enough to stock up big wins. 
However, projecting the winner in this tournament may be the toughest of them all. Cincinnati is a 1-seed, but it already lost at home to UCF, who could be their first matchup in the quarterfinals.
It won't be any easier against UConn or Wichita State in the semifinals. While Jarron Cumberland is back from injury, that may not be a good enough reason to take them to win their third-straight tourney.
HOUSTON
Record: 23-8, 13-5
The Cougars are favored to win the AAC tournament as the 2-seed because of advanced metrics. They're second in the conference in offensive efficiency and first in defensive efficiency, which sums up their success.
While they also have five conference losses, none of them are overly bad as all of them came on the road against decent teams. It was the same case in non-conference play as they didn't lose against a bad team.
That consistency is the main reason to back them in this tournament, though it was the same situation last year and they fell in the finale. The other bonus is that Houston may have an easier road as a 2-seed, possibly getting SMU and then Tulsa or Memphis prior to the title game. They're quality teams, but this defense is what could separate Houston in this tournament.
TULSA
Record: 21-10, 13-5
The Golden Hurricane have been one of the bigger surprises this year and that's maybe why they're tough to back. In addition to having the seventh-most efficient offense in the AAC, they've had some bad performances, losing three different conference games by more than 20 points.
While their defense will keep them competitive, the offense won't be enough to win it all and it doesn't help that a hungry Memphis squad could be their first opponent in the quarterfinals.
WICHITA STATE
Record: 23-8, 11-7
If the Shockers want to make the NCAA tournament, they'll need to win at least one game and that'll likely be against UConn in the quarters.
They don't do one thing overly well, but they've won six of their last eight games and have a deep squad if foul trouble is an issue. However, they aren't a great shooting team and expecting them to go on a run with Cincy and Houston possibly on the slate, is a stretch.
CONNECTICUT
Record: 19-12, 10-8
The Huskies probably aren't worth mentioning if not for their five-game winning streak. Sure, four of those wins aren't relevant, but they're playing better than at any other point this season and have the guards in Christian Vital and James Bouknight to secure an upset or two. Making it to the title game is another question, especially since this tourney is in Texas where they're unlikely to have as many fans as prior tournaments.
MEMPHIS
Record: 21-10, 10-8
The Tigers are another AAC team on the bubble and in need of at least one win to make the NCAA tournament. While they've played well with Precious Achiuwa leading the way, they haven't won more than three games in a row in AAC play.
That said, the schedule isn't terrible as they should run through ECU, and Tulsa is plenty beatable even though they lost by 40 points in the only prior meeting (Jan. 22). The tough part will be getting past Houston, though they split in the regular season.
It's reasonable to think any of these six teams have a chance at reaching the title and winning it, but this tournament has been dominated by the top seeds in past years.
Houston has the best overall team and is easiest to bet, while the others are all in need of more wins if they want to compete in March Madness. If you don't like Houston, it may be best to look for a sleeper in the top of the bracket, which would mean either UConn or Wichita State.