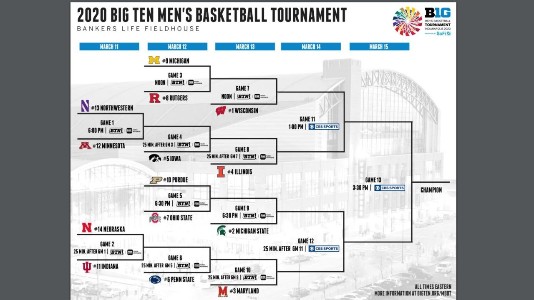 BIG TEN CONFERENCE
Bankers Life Fieldhouse, Indianapolis, Indiana
March 11-15
WISCONSIN
Record: 21-10, 14-6
Wisconsin came out of nowhere to get the 1-seed in the Big Ten tournament and that's part of the reason they aren't favored to win it. Despite winning their last eight games, not many believe the Badgers can keep it going.
While they've had some impressive wins, most of them came at home and beating teams like Michigan and Indiana on the road aren't the same as the top teams in the conference.
Even then, Wisconsin might be an underdog in its first game in the quarterfinals if it plays Michigan. That's a fairly good reason not to bet the Badgers, especially since they don't do one thing overly well.
They're getting solid, balanced production, but they've failed to score more than 63 points in each of their last two wins, which isn't going to cut it against better competition.
MICHIGAN STATE
Record: 22-9, 14-6
The Spartans are playing their best basketball and may be on the best run of any team in the conference, winning back-to-back road games against Maryland and Penn State, as well as beating Iowa and Ohio State at home.
Something has clicked the last few weeks and that's not good for the rest of the conference. In addition to Cassius Winston leading the way, they rank first in efficient field-goal percentage on both ends of the court, which is usually a good stat to back in tournament play.
No game will be overly easy for any of these teams, but given their high ranking in advanced analytics, MSU will likely be favored in every matchup. 
MARYLAND
Record: 24-7, 14-6
The problem with backing the Terrapins is that they have to go through the Spartans, who they just lost to at home. The Terps also aren't playing their best, losing three of their last five and a first matchup against Penn State or Indiana won't be easy.
But similar to Michigan State, Maryland has the tools to win a few games in a few days. Jalen Smith is going to dominate in almost every game, while Anthony Cowan and a slew of athletic wings tend to do the rest. The question is if you want to bet on a team who may have been playing its best basketball a month ago.
ILLINOIS
Record: 21-10, 13-7
The Illini couldn't have asked for a better spot because the 1-seed is a Wisconsin team they know they can beat, already taking them down in Madison. They've also won five of their last six games and have gone on two four-game winning streaks in Big Ten play.
While Illinois is another team with a solid big man in Kofi Cockburn, they go through guard Ayo Dosunmu, who has had some huge moments this season. However, Illinois tend to go on offensive droughts no matter the opponent and that's a hard thing to bet on, especially since they're last in the conference in three-point percentage. While they have the players, at some point you have to consistently hit shots to win games.
IOWA
Record: 20-11, 11-9
PENN STATE
Record: 21-10, 11-9
OHIO STATE
Record: 21-10, 11-9
RUTGERS
Record: 20-11, 11-9
MICHIGAN
Record: 19-12, 10-10
These teams are all lumped together because they've been lumped together all season. None of them truly stand out from the others and while all of them have the ability to go the entire way and win the Championship, it'll require four wins in four days.
Iowa probably has the best route because in addition to having a dominant player in Luka Garza, their first matchup should be the easiest (Minnesota) and they're also in the top of the bracket. The bottom of the bracket is a bit messier because in addition to beating decent teams in the second round, they'll need to either beat MSU or Maryland in the quarterfinals. 
If you don't like Michigan State or Maryland, it may be best to pick an underdog from the top of the bracket and hope they can take down Wisconsin. That's looking like Iowa or Illinois, but Michigan is plenty familiar winning this tournament as a low seed, taking it as a 5-seed in 2018 and 8-seed in 2017.
Otherwise, it's often been Michigan State, who have won four of the last eight tournaments. Combine that with how the Spartans are playing at the moment and it's easy to see why they're the favorite. Then again, the Big Ten has beat up on itself all season and that'll probably continue in the tournament.