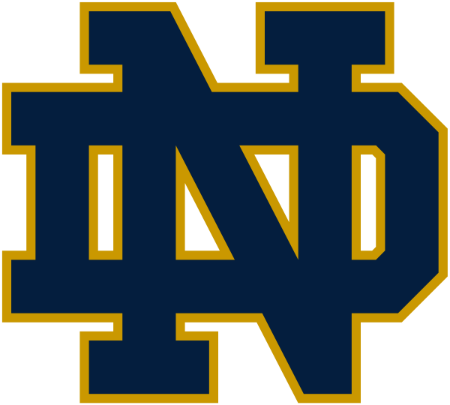 Boston College Eagles (13-18) vs. Notre Dame Fighting Irish (19-12)
Date/Time: Wednesday, March 11, 2020 7:00 PM ESPN2
Notre Dame is at 19 wins and 10-10 in ACC play and this game facing Boston College is likely a must-win for them to get into the Big Dance.
 This conference tournament game is being held at a neutral site at the Greensboro Coliseum in Greensboro, North Carolina.
On the season Boston College is 14-17 ATS with an O/U record of 14-16 and Notre Dame is 15-14-2 ATS with an O/U record of 14-16.
Boston College finished the season five games under. 500 and 7-13 in ACC play and they have lost their last five games. They faced Notre Dame at home three games back and lost 62-61 in the lone matchup this season. The Eagles rely on their defense, as they are only averaging 64.8 ppg but in their last five games they gave up at least 78 points four times.
Notre Dame had lost two in a row before stopping the bleeding in their last game where they were at home and beat Virginia Tech 64-56. The Fighting Irish are a balanced team and they had given up 73 and 84 points, respectively, before only giving up 56 points in their last game.
On the season in games at a neutral site Boston College is 1-0 and Notre Dame is 0-1.
Have to Get Back to Defense
In their loss to Notre Dame three games back Boston College held them to 41.4% shooting and only 62 points while in losing their last two games gave up 80 and 84 points respectively. They have to play great D to win this game being only ranking 372nd (64.8 ppg) in points per game.
In their last game of the season, the Eagles were on the road and lost to seventh-ranked Florida State 80-62. They were outscored by 18 points in the first half and while they held the Seminoles to 42.5% shooting they only shot 33.3% from the floor.
In the loss to FSU three starters for BC scored in double figures and while Jay Heath and Derryck Thornton combined for 25 points they were only a combined 7/24 from the floor.
Thornton (13.1 ppg) and Heath (13 ppg) are the two leading scorers and Thornton had 18 points in the game before the loss to FSU. Heath has been solid in the scoring department as of late but has failed to shoot over 35.3% from the floor in his last two games.
Defense Helps Snap Skid
The Irish had lost two in a row before their 64-56 home win over Virginia Tech in their last game. They played great D in the game holding the Hokies to 17 points in the first half and held them to 36.2% shooting.
T.J. Gibbs was the only starter for Notre Dame to go for double figures with 22 points and reserve Dane Goodwin was the only other player in double figures with 13 points.
John Mooney (16.5 ppg 12.8 rpg) is the leading scorer and rebounder for a Fighting Irish team that has four players averaging at least 10 ppg. Mooney had six straight double-doubles and was legit in the scoring department before only going for seven points, but did have 13 rebounds, in the win over Virginia Tech. Gibbs (13.2 ppg) had only totaled 25 points in three games on bad shooting before 22 in the last game where he shot 58.3%.
The Irish needed a shot from Gibbs to fall with one second left in the recent win over Boston College.
Our Prediction
Boston College has failed to cover the spread in two in a row and in four of their last five games.
Notre Dame had failed to cover in three in a row before doing so in the win over Virginia Tech.
While Boston College is only 1-4 ATS in their last five games the one game they did cover was against Notre Dame wherein the 1-point loss they were a 5-point home underdog. This game will not be that close. Mooney is coming off a low scoring game but he will be big in this one and lead the Irish to a win, covering the spread, which will be their 20th of the season.
Notre Dame 74 Boston College 68