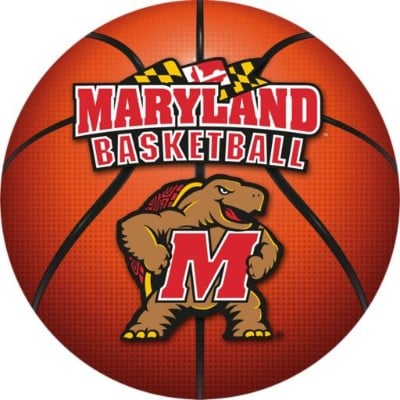 Michigan State and Maryland have yet to play and that was probably a purposeful move by the Big Ten as it expected both schools to be fighting at the top of the standings late in the season. The first meeting takes place Saturday in East Lansing and the rematch is a couple weeks later.
The Terrapins are one of the hottest teams in the conference, winning their last seven, and that's why they're alone in first place.
They've had some nice road wins like at Indiana and Illinois, but that win streak is alive because of home wins against Purdue, Iowa and Rutgers. Winning this game would be huge for the Terps in their quest for a possible No. 1 seed in the NCAA tournament. 
Those hopes are already gone for the Spartans, who have eight losses overall and had lost three straight prior to beating Illinois on Tuesday.
They've had a weird season, from beating most Big Ten teams by double digits at home, to suddenly getting outplayed at home last week by Penn State. This one is set to be another battle and the question is what MSU team will show up. 
Michigan State has had some ugly starts, but it also has been good at home and gotten out to big leads at Minnesota and Illinois. While Maryland ranks ninth in the conference in terms of three-point shooting, that number hasn't mattered against recent opponents as it was a week ago that Michigan had one of its better shooting performances of the season. 
If Maryland wants to have a chance, it needs to hit shots early, and that's kind of been the key to winning on the road in the Big Ten. While the Terps aren't a great shooting team, they have a roster that's willing to launch it.
Eric Ayala is an ugly 25.7% from deep, yet he came through and hit four threes in Tuesday's win. The more important players are Anthony Cowan (16.3 ppg) and Jalen Smith (15.1 ppg, 10.2 rpg), who make everything go for this team.
Smith has been especially awesome with a double-double in four-straight games including three made threes in three of those. That duo seems to score at least 30 points every night and when that happens, everything else falls into place whether it's guys like Ayala, Aaron Wiggins or Darryl Morsell hitting shots.
The other reason Maryland is winning is because of its defense which ranks fifth in the country in terms of efficiency. Michigan State is technically first in conference play, but it's been a slim margin between them throughout the season.
That simply means this game comes down to hitting shots when you have open looks. MSU has had a problem with that which is why it has a few more losses.
Xavier Tillman (13.6 ppg, 10.2 rpg) is putting up monster numbers every night, but he had some layup issues in recent games until he dunked in a put-back winner Tuesday night.
Cassius Winston (18.3 ppg, 5.7 apg) is the bigger name, but Tillman may be the more important player. In addition to having to defend Smith on one end, he'll need to try and use his size advantage to get easy looks in the paint.
If that happens and Maryland has to double Tillman, that will lead to easy looks for Winston, Rocket Watts, Aaron Henry and Gabe Brown. Henry may be the sophomore, but freshman Watts has become a presence and actually led the team with 21 points at Illinois. 
While both of these teams are led by two studs and overall solid defenses, they also have key role players that step up when needed. The Spartans get the edge playing at home, but if they don't put their foot on the pedal early, this one could be tight the entire way.
Maryland 68 Michigan State 64