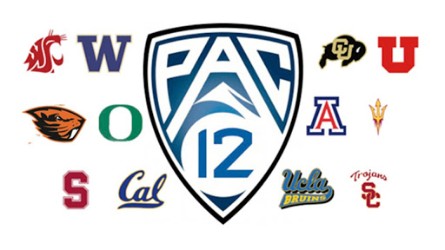 PAC-12 CONFERENCE
T-Mobile Arena, Paradise, Nevada
March 11-14
OREGON
Record: 24-7, 13-5
There have been some weird results in the Pac-12 this year, but it finished how it was expected to go with Oregon on top. The Ducks maybe had a few slip ups, like the loss at Washington State, but they didn't lose at home all season, meaning more often than not, they won when they were supposed to.
That's the best reason to take them in this tournament because while they lost a few bad games, the rest of the conference had a few more bad losses, as every team was unpredictable on a game-to-game basis.
That consistency is in large part to Peyton Pritchard, as no one else on the team really stood out and even without Chris Duarte the final couple games, they dominated competition at home.
Of course, nothing is guaranteed in this tournament which is why the Ducks won as a 6-seed last year. Even their quarterfinals matchup against Oregon State or Utah is far from a freebie as both teams have playmakers who can go off in any contest.
A semifinals matchup would then feature USC or Arizona, both of whom may have more talent, especially since Duarte is injured. At the end of the day, Oregon had the most consistent team in the conference led by the seventh-most efficient offense in the country and as long as Pritchard is on the court, they'll have the advantage.
UCLA
Record: 19-12, 12-6
UCLA's late-season run came out of nowhere and while they could be underdogs in every game, that shouldn't stop you from betting on them. They won seven-straight games prior to losing by two points at USC in the finale.
Their overall numbers don't stand out, but the Bruins clamped down defensively in the final month and that turned them into a relevant team. The question is how comfortable you'll be betting on a team who doesn't rate well in advanced analytics because of the first half of the season.
Their path to the title game is at least do-able with Stanford and Arizona State the possible matchups in the quarters and semis. On the other end of that, they seem to win every game close and that's hard to bank on in a tournament.
ARIZONA STATE
Record: 20-11, 11-7
There was a point when the Sun Devils looked like the best team in the Pac-12, winning seven-straight games, but then they suddenly faltered after an LA road trip and weird home game in which they gave up 90 points to Washington.
Point guard Remy Martin can score with the best of them, but they don't rate above average in any offensive stat and as seen in the loss to Washington, their defense can be an issue.
The issue in this tournament is that Colorado could be their opponent in the quarterfinals, a team expected to be seeded higher in the NCAA tournament. If ASU can get past them, the schedule is favorable since UCLA is plenty beatable, yet this team has never been a threat to win the tournament in past years under Bobby Hurley.
USC
Record: 22-9, 11-7
The main thing going against the Trojans is that their lone respectable road win in conference play came at UCLA when the Bruins weren't playing well. Otherwise, USC has lost their last four road games and while on a three-game winning streak entering this tourney, all of those came at home.
Oddly, they rank first in the Pac-12 in defensive efficiency, but 10th offensively. That stat is relevant come tourney time, but finding consistent offensive production will come up at some point, possibly in the first game against Arizona. Those teams split in the regular season, but the Wildcats will likely be favored which says everything about USC's tourney hopes.
ARIZONA
Record: 20-11, 10-8
The Wildcats will be a popular sleeper pick mainly because they rate highly in advanced analytics and are loaded with talented freshmen. When on their game, Nico Mannion and Zeke Nnaji are hard to beat, but there are stats going against Arizona.
For starters, they've lost four of their last five games and just as important, they haven't won more than three games in a row in Pac-12 play. As a 5-seed, they'll need to win four games in four days to win this tournament.
They're solid on both ends of the court, but current form has to be taken into account, which downgrades them in this spot. It's also a long shot that they'll get past both USC and Oregon on consecutive days.
COLORADO
Record: 21-10, 10-8
The Buffaloes were leading the conference at one point and then they lost four straight games to close the campaign. While three of those came on the road, you can't feel good about losing to Cal by 14 points.
That said, the Buffs are another team who rate well on both ends of the court because of a balanced roster. The difference between them and Arizona is that they have a bit more experience in juniors Tyler Bey and McKinley Wright.
Throw in a deep bench and it's easy to see why Colorado was leading the standings at one point. The question remains if they can win away from home because that's where most of their losses came this season. 
Oregon stands out in terms of consistency and having the best player in senior Peyton Prichard. They don't have the most favorable schedule, which could lead to an upset along the way, but they are the best overall team according to the numbers.
The 1- or 2-seed has won five of the last six Pac-12 tournaments, so that also points to UCLA. However, there are arguments for any of the top six teams winning this one, which makes going after a sleeper like Colorado or UCLA a viable betting strategy.