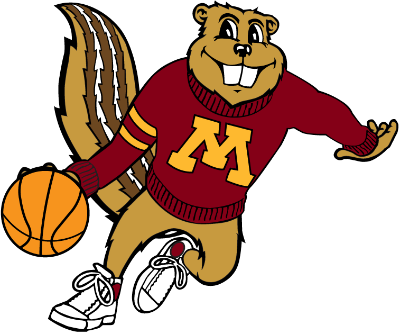 The Big Ten is a bloodbath and that's seen in records for both Wisconsin and Minnesota. Each of them is one loss or one win away from being at the bottom or top of the conference standings. Every game matters and that's kind of how the Badgers climbed out of their hole to beat Michigan State last weekend.
Of course, winning on the road is another issue as Wisconsin has lost its last three away from home, two of them by double digits. It's the other end of the spectrum for Minnesota, who is 4-1 at home in conference play with the lone loss coming against MSU. 
The question for the Badgers is if their role players can keep it up. While Brad Davison is back from suspension, this is the third game they'll be without second-leading scorer Kobe King, who left the program.
Aleem Ford maybe had the most impressive game over the weekend, scoring 13 points in 34 minutes, but again, getting that production on the road is much more difficult. For Wisconsin to win, it usually needs at least two players to go off, as well as the defense to dominate. Nate Reuvers has been their most consistent player, while D'Mitrik Trice has taken up a bigger role without King on the team.
The main thing going in Wisconsin's favor is that Minnesota ranks 10th in the conference in terms of defensive efficiency and 13th in three-point percentage allowed.
That's a huge boost to Wisconsin, who can't seem to put together back-to-back solid offensive outings. Of course, the Badgers also don't rank elite defensively with most of their games being low-scoring because of a slow pace.
The difference in this matchup could be Daniel Oturu, who has feasted on just about everyone, averaging 19.7 points, 11.1 boards and 2.6 blocks per game. His rebound totals have been down in recent games, but rebounding isn't one thing Wisconsin does overly well.
Wisconsin will likely double team Oturu as much as possible with Nate Reuvers and Micah Potter the biggest guys, but neither has the size to truly deal with him. While Oturu puts up better numbers, the Gophers are usually pushed over the top with point guard Marcus Carr, who averages 15.6 points, 5.6 boards and 6.6 assists per game.
While Wisconsin relies on a balanced roster, Minnesota is all about Oturu and Carr. If you can limit one of those guys, you can beat Minnesota.
The return of Davison helps, but Carr still has a quickness edge against every one of Wisconsin's perimeter defenders. It's usually easier to bet on the home team in Big Ten games and that doesn't change in this matchup.
Wisconsin is more balanced and has won nine of the last 10 meetings, yet the loss of King is more relevant on the road and the advantage Oturu has down low could be too much in the end. The other part is that the Gophers are more in need of a win.
They sit at 11-10 overall and can't afford another home loss, which would likely push them out of the NCAA tournament discussion.
Minnesota 62 Wisconsin 57