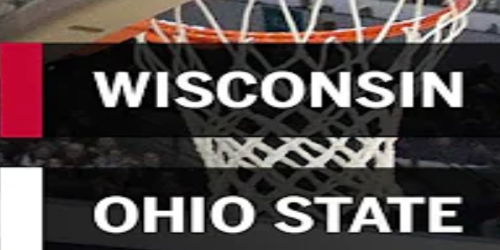 Wisconsin was supposed to be one of the better teams in the country and one of the best in the Big Ten, but things haven't gone as expected.
Sure, the Badgers are still near the top of the standings and rankings, but they already have three losses, one of them to Marquette, another at home to a sub par Maryland team and another by 23 points to Michigan.
With a brutal schedule ahead that features two games against both Iowa and Illinois, Wisconsin can't afford any more slip ups.
Big 10 Deep
The problem is that the Big Ten is probably the deepest conference in the country. That's seen in Ohio State, who not many believe to be an elite team in the conference, but it's also been good enough to win at Rutgers and Illinois.
It's mainly because the Buckeyes have one of the most efficient offenses in the country, which will be the matchup to watch. As of writing, the Bucks had the No. 5 offense and Badgers had the No. 5 defense in the country in terms of adjusted efficiency.
Ohio State's offense is the bigger surprise and its inconsistencies have already shown up in losses to Purdue, Minnesota and Northwestern. Duane Washington has been forced to play point guard the last few games because of the injury to CJ Walker and he's done enough outside of turning the ball over eight times the last two games.
He takes the most threes for OSU, but makes less than 40% of them, which isn't great. EJ Liddell is probably their best offensive player despite averaging fewer points per game (14.1). While he'll take threes, he's more about dominating inside the arc, which led to 26 points and seven boards in the win against Illinois.
Otherwise, it's a mostly mixed bag for the Buckeyes. Justice Sueing has become more of a facilitator due to injuries, but he hasn't scored double figures the last two games, while Kyle Young is more of a glue guy and no one else really stands out, which is why they've had some down games this season.
Watch the Badgers "D"
Despite having great numbers, it wouldn't be surprising if Wisconsin's defense stood out the most in this matchup. Most of their defensive struggles come beyond the arc, which is an area Ohio State doesn't thrive in. Micah Potter and Nate Reuvers can limit what OSU does in the paint, while D'Mitrik Trice and Brad Davison will likely split time on Washington. 
It actually may come down to what OSU's defense can do against Wisconsin and the absence of Walker isn't going to help against Trice, who is having an awesome season, averaging 15.0 points, 3.3 boards and 3.6 assists per game.
Everything runs through him, while everything else is fairly balanced. Potter will have his moments and the same goes for Davison, Reuvers and Aleem Ford, but Trice leads the way for them.
There isn't anything that stands out about the Badgers, which is why they'll be a favorite team to fade as the season moves along. However, they have a senior-laden roster and sometimes that's enough in college basketball. Playing at home, it'll be hard to bet against them versus a team who doesn't have their natural point guard.
Predicted Score Wisconsin 69 Ohio State 63