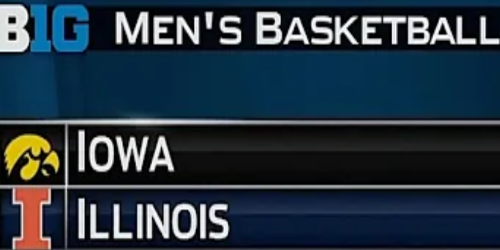 Iowa and Illinois were supposed to be the top two teams in the Big Ten this season with little competition outside of maybe Wisconsin. Instead, while near the top of the standings, each of them have had issues performing consistently.
The Hawkeyes are still a top-10 team in the country despite having three losses, while the Fighting Illini are a top-20 team despite being 10-5 overall.
Iowa is coming off a strange home loss to Indiana a little more than a week ago and Illinois hasn't played since Jan. 19. Illinois is home, but that doesn't mean as much as prior seasons since it's already lost to Ohio State and Maryland in Champaign. 
Illinois "D" Could be the Key
The main thing that will decide this matchup is if Illinois comes to play. When at its best, the Illini are probably the better overall team because they actually play defense.
They rank No. 2 in terms of offensive and defensive efficiency in the Big Ten, while the Hawkeyes are all offense and don't really care about defense.
That's a problem in this game because Ayo Dosunmu and Kofi Cockburn are huge offensive presences. Dosunmu is averaging 21.7 points, 6.3 boards and 4.9 assists per game and should feast against a shorter backcourt that ranks 10th in the conference in three-point defense.
Cockburn will do the rest around the rim, assuming he doesn't get into foul trouble. He averages 17.3 points and 10.3 rebounds per game and should have plenty of easy looks against Luka Garza, who doesn't play much defense in order to stay out of foul trouble.
Otherwise, production is usually random for the Illini, whether it's freshmen Adam Miller and Andre Curbelo stepping up or Trent Frazier and Da'Monte Williams doing a little more. But since Illinois may have to score more than 80 points in this game, it may come down to what the secondary players can do.
Illinois Needs Consistency 
Illinois can play elite defense, but it hasn't been consistent, from holding Penn State to 65 points one night to giving up 87 to Ohio State the next. If they can show some resistance against Iowa's shooters, that may be enough to find an edge, similar to what Indiana recently did against them.
It's all about Garza for the Hawkeyes, as he simply can't be stopped. He's set to win National Player of the Year, averaging 26.9 points and 8.9 boards per game. Cockburn will body him up down low, but Garza's shooting and length will be a problem and will ultimately give him the edge.
However, Iowa needs production elsewhere to win this game. Joe Wieskamp is next in line, averaging 14.5 points per contest and he may draw Dosunmu in the matchup, which won't be easy. Jordan Bohannon has taken up a bigger role of late and almost everyone else on the team is a shooter, but if the shots don't fall, this offense doesn't work.
Either team has the tools to win this matchup and the Hawkeyes could easily hit 15 threes and win by 10 points. However, the Illini are a more complete team and if they show up on the defensive end, that could be enough to get the win, assuming Dosunmu and Cockburn put in their usual offensive numbers.
Predicted Score Illinois 88 Iowa 81