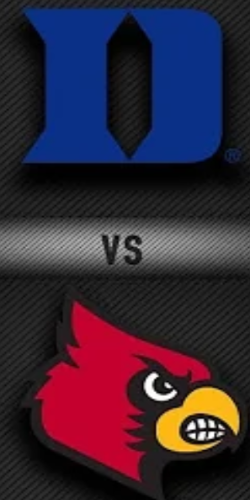 Duke has lost back-to-back games and looks on the verge of a .500 record. It's been a slog from the start for the Blue Devils and nothing has seemed to change, as their three ACC wins have come against three of the worst teams in the conference. They'll try and change their fortunes against another team that has lost two straight.
Louisville was first in the conference and then it lost games to Miami and Florida State, and it remains unclear how good they are.
Even with a 9-3 record, the Cardinals don't have any overly good wins, but they've at least beaten Pittsburgh and Virginia Tech, the two teams Duke just lost to. 
Duke Defense Terrible
Consistency has been an issue for Louisville, while Duke maybe just doesn't have the same talent as prior seasons. The Blue Devils have had one of the worst defenses in conference play, giving up worse than 40% from beyond the arc, while their offense hasn't done enough to offset that.
The best news is that Jalen Johnson returned earlier in the week and put in his best performance of the season, racking up 24 points, 15 boards and seven assists.
It was a crazy statistical performance that unfortunately got overshadowed by another loss for Duke in which they trailed most of the way. The offense looked better with Johnson back in the team, but the defense still wasn't there.
In that loss, Coach K seemed to pick out his favorite five players and stuck with them, as five guys played at least 30 minutes. Freshman Jeremy Roach has found some more playing time, but he's shooting 24% from distance on 33 attempts.
DJ Steward and Wendell Moore also have their moments, but the No. 1 option most of the season has been Matthew Hurt, who took a backseat in the loss to Pitt and posted just 13 points despite averaging 18.9 points for the season. In addition to having an iffy defense, it's been a struggle to get everyone on the same page offensively.
Carlick Jones Leads Louisville
That's expected to be an issue against Louisville, who has a couple guys who can fill it up. Carlik Jones is the biggest threat, averaging 17.9 points per game, while David Johnson is the better shooter and averaging 13.1 points.
The bigger problem in this matchup may be Louisville's activity in the paint between Jae'Lyn Withers and Samuell Williamson. Neither is a true center, but both have had big games this season and are ripe for double-doubles if the matchup is right.
Louisville is home, but as seen in the loss to FSU, that doesn't mean as much this season. And even though the Cardinals have a better record, a lot of those wins have been close calls.
They can win this game by going to Withers and Williamson down low, while the Blue Devils need to figure something out on both ends of the floor. If Johnson can become a dominant presence every game, that'd be helpful and until then, they'll struggle with inconsistency and be tough to bet on, which is why they're 1-8 ATS this season.
Score Prediction – Louisville 74 Duke 65