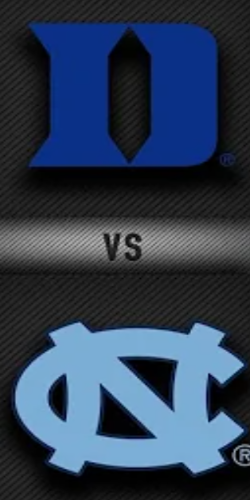 Neither Duke nor North Carolina was ranked in the first meeting a month ago and that's the case again. The difference is that this one probably has a little more meaning for the NCAA tournament. With both teams on the bubble, each of them need a win to better their chances of getting to the dance.
North Carolina has been a mystery and one of the harder teams to bet on this season. In the last week, the Tar Heels have lost by double digits to Marquette, came back from a double-digit deficit and beat Florida State and most recently lost to Syracuse. As for Duke, it's been a little more consistent and hasn't really been blown out this season.
The prior meeting was all about offense, as the Heels led most of the way in an 91-87 road win. Their size was tough to overcome, but their freshmen also had better games led by Caleb Love, who dropped 25 points with seven assists, one of his better games of the season.
He was the only player in the game to surpass 16 points, while the Blue Devils got 14 points, five boards and five assists in 25 minutes off the bench from Jalen Johnson, who is no longer with the team.
UNC rates better defensively, but both teams shot great from the floor in that first meeting, combining for 21 made threes, while being equally efficient from inside the arc. And similar to the rest of their seasons, they combined for 31 turnovers.
Given how the season has gone for these teams, it's expected to be a similar game in which neither team has an overwhelming edge. The biggest problem for Duke will be what it does against UNC's size without Johnson.
Freshman Mark Williams has been great in a bigger role, but he's only one guy. UNC has multiple guys close to seven foot and all of them have had big games this season.
Everyone is hit-or-miss, but all of them are potent. Armando Bacot just had 18 points and 15 boards against Syracuse, while seldom-used Walker Kessler had 20 points and eight rebounds against Florida State. Stopping those guys will be a problem, but also Caleb Love had his way against the Duke backcourt in the prior meeting.
One of UNC's advantages is its height and its depth, but those can be disadvantages at times. If Duke plays small ball, UNC will need one of its bigs to go out and defend the perimeter.
But still, the Blue Devils need someone else to step up outside of Michael Hurt, who leads the team with nearly 20 points per game. And while he can be an elite offensive weapon, he did nothing in the first meeting, getting into foul trouble early and then finishing with seven points in 21 minutes.
If that happens again, Duke may not have a chance unless they catch fire from deep. However, since that first game, other guys have stepped up even if they haven't been consistent. Wendell Moore had 20 points in the loss to Georgia Tech and DJ Steward scored 21 points in the win against Syracuse.
To win the rematch, everyone else needs to step up for Duke. That means big man Williams and guys like Jordan Goldwire and Jeremy Roach, who rarely have two good games in a row.
UNC gets the edge because of its size and because it won the first meeting, but given how they look on a game-to-game basis, there's no telling what team shows up in this one. Of course, it's Duke and North Carolina, so it makes sense each team brings their best game with a lot on the line.
Predicted Score – North Carolina 76 Duke 69