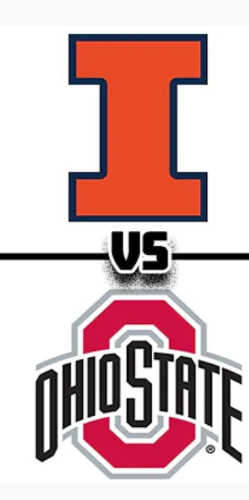 The Big Ten is a mystery and every game between top teams seems to be a toss up. That was most evident Tuesday when Illinois went to Michigan without Ayo Dosunmu and dominated en route to a 23-point win.
That kind of thing has happened throughout the season and it most recently happened to both of these teams when they lost to Michigan State last week.
In the final game of the regular season, there may be a little more on the line this time, namely a possible 1-seed in the NCAA tournament. When they met in mid-January, it was a game of offense, as the Buckeyes won 87-81 on the road. They opened with a 10-0 run and then had a 15-0 run shortly after that, and never looked back.
Unfortunately for them, that probably isn't going to happen again. The main reason they had that start was EJ Liddell, who finished with 26 points and seven boards. However, they probably can't rely on him hitting four threes again, a season high.
His ability to hit threes forced Illinois big man Kofi Cockburn to defend on the perimeter and that opened everything else for OSU. If the shots aren't falling for Liddell, it'll likely be a different story.
The Bucks enter this game having lost three straight because they aren't getting the same kind of offensive production, failing to surpass 70 points in the last two. Liddell leads the team with 15.9 points per game and Duane Washington is close behind, but everyone else has been a little shaky.
Justice Sueing isn't much of an offensive threat, CJ Walker is more of a facilitator and Kyle Young does the dirty work around the hoop.
When things are going well, all of those guys will hit double figures and Justin Ahrens will knock down a few threes. When things aren't working, Liddell and Washington don't hit their highs and only one other guy will be in double digits.
That's the main problem in this matchup because Liddell's advantage is that he's a small center who can knock down shots. If the shots aren't falling, he'll have to work down low against Kofi Cockburn, which probably won't work.
And even if Dosunmu doesn't play, everyone else has stepped up in his absence on both ends, including Trent Frazier, Adam Miller, Andre Curbelo and Da'Monte Williams.
In addition to taking Dosunmu's usual offensive work, everyone has seemingly picked up on the defensive end, as well. Frazier, a senior, took over in the win against Michigan, totaling 22 points from 18 shots, a season high.
The advantage for OSU comes at the forward spots where they'll have a height advantage. Then again, Michigan could've said the same thing Tuesday and that didn't work out well.
Cockburn had 15 points and 11 boards in the first meeting and maybe most importantly he shot 7-for-7 from the field. Oddly, he wasn't fed the ball more and Illinois lost, but he has a clear size advantage over everyone on the Buckeyes.
Combine that with an already flawed OSU defense that ranks 10th in the Big Ten in terms of adjusted efficiency, and the road team has more advantages with or without Dosunmu.
The Fighting Illini have won 10 of their last 11 games and the Buckeyes have lost their last three, including two at home. Unless Ohio State figured out how to play defense in their week off, Illinois has more advantages in this matchup.
Ohio State 76 Illinois 75