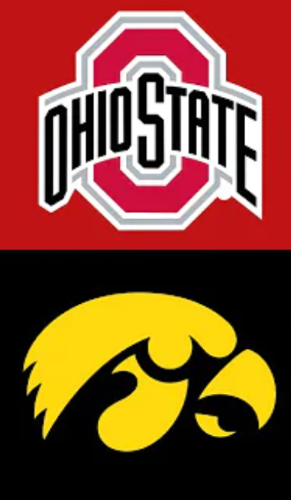 This is probably the biggest game of the weekend, which is why it gets top billing on Sunday. Both teams are technically fighting for 1-seeds in the NCAA Tournament and a win in this matchup would be huge, especially for Iowa, who lost the first meeting.
When these teams met three weeks ago, it was all offense as Ohio State won 89-85. Each team made 14 threes and couldn't be stopped. The Hawkeyes had the edge most of the way, leading by 11 points early in the second half, but the Buckeyes put in a 12-2 run and then slowly chipped away for the win.
Neither team had an overwhelming advantage in that game, as no one had more than 18 points, including possible National Player of the Year, Luka Garza. The game was all about balance with both teams spreading the ball around, each with 20 assists.
The one thing that could give Iowa an edge in this game is that CJ Frederick looks to be over his injury issue. The guard doesn't have huge offensive numbers, but he's shooting better than 50% from deep and Iowa lost three of the four games he didn't start.
Ohio State also has a question in Kyle Young, who missed Thursday's game with a concussion. If he misses out again, it takes away another presence around the basket after he had 16 points and six boards in the first game.
The ultimate difference in this matchup, similar to the first one, is who can get more defensive stops. Both rank in the top three of the country in terms of offensive efficiency, but both defenses are outside of the top half of the Big Ten.
The Buckeyes don't have anyone with the size to deal with Garza, who is averaging close to 25 points and 8.5 boards per game. He's surrounded by a bevy of guys who can shoot, led by Joe Wieskamp, who is second on the team with 15.3 points per contest.
Otherwise, point guard Jordan Bohannon likes to launch it from deep, and Frederick, Jack Nunge and Keegan Murray are always capable of putting in double-digit points. Of note, Nunge and Connor McCaffery both left Thursday's game with injuries and are worth monitoring before betting this one.
OSU plays a little smaller and can defend almost everyone on Iowa but Garza, which is why they double teamed the big man often in the first matchup. On the other end, Garza will have to keep up with EJ Liddell, who is similarly versatile, but he's also smaller and quicker.
Lid dell leads the Bucks with 15.9 points and 6.8 rebounds per game, while Duane Washington can be just as big as a threat from the backcourt. And even if Young doesn't play, Justice Sueing does a
little bit of everything outside of shoot the three well, and CJ Walker leads the team with 4.2 assists per game.
Unless one of these teams suddenly figures out how to play elite defense, this is going to be another back-and-forth game. Garza and Liddell are the big names, but Wieskamp and Washington will surely get easy looks.
The Hawkeyes probably need this game a little more, but the Bucks may be the better overall team, as long as Young plays. If not, OSU could have trouble getting rebounds against the size of Iowa, something that could decide the outcome.
Ohio State 81 Iowa 79