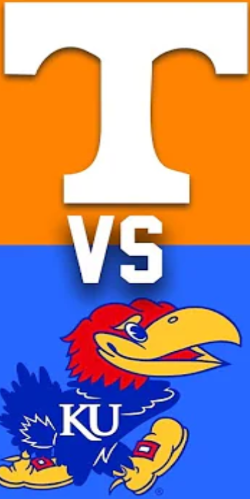 The season started decently for both Kansas and Tennessee. While they suffered a loss or two, they were still near the top of their respective conference standings and both even made it to No. 6 in the AP Polls. However, the last few weeks haven't gone as well. Kansas lost three straight and Tennessee lost two straight.
The Jayhawks have won two of five true road games, one of them by a point at Texas Tech and another against a bad TCU squad. Unfortunately for the Volunteers, they haven't shown much home-court advantage, already losing to Alabama and Missouri.
While they won Tuesday, they still seemed to be in a funk, barely getting past Mississippi State. Since losing by 26 points to Florida, they haven't looked right and that's the biggest unknown going into this game. They have the talent and have already shown they can be an elite team, but they aren't playing like it.
Tennessee's offense has been the main issue, ranking 12th in the SEC in terms of efficiency, while its defense is No. 2. That could lead to this matchup being lower scoring, though that's seen in a smaller over/under.
As for Kansas, it's mediocre on both ends of the court, with its only above average trait being two-point defense, something that won't help an already struggling Tennessee offense.
The Vols have a deep team, but big man John Fulkerson leads them in scoring at 11.2 points per game, while Victor Bailey (10.9 ppg) is the only other player above 10 ppg. Of course, five of their players are above eight points per contest, but it's rare when a few of them have a good night, which has been the main problem.
Oddly, freshman Jaden Springer has maybe been their most important player because he played just five minutes in their three losses. He returned from injury earlier in the week and had nine points, four boards and five assists.
He's averaging 20.4 minutes per game, but that number could be closer to 25 by season's end. Elsewhere, Yves Pons is there more for defense and Santiago Vescovi usually runs the point.
If the Jayhawks can limit easy looks in the paint with big man David McCormack, that'll give them a nice edge. But against this defense, they'll also have similar problems getting consistent buckets.
They have five players averaging double figures, but no one else averages more than 5.1 ppg, showing their lack of a bench. For them to become an elite team again, McCormack needs to be a presence every game, which isn't happening, and he won't have an easy time against Fulkerson and Pons in this matchup.
Otherwise, it's up to Ochai Agbaji, Marcus Garrett and Jalen Wilson. All of them have had big games, but none of them are elite offensive weapons. Wilson opened the season on a tear, but he hasn't surpassed nine points in three of the last four.
Both of these teams have problems, but Tennessee is at home, deeper and probably a better overall squad. Kansas needs more things to go right to win this game and that starts with McCormack in the paint.
Then again, the Vols are struggling to score against everyone. The presence of Springer helps and could be what puts them over the top in this Big 12-SEC showdown, but neither team has a massive advantage over the other.
Predicted Score Kansas 66 Tennessee 65