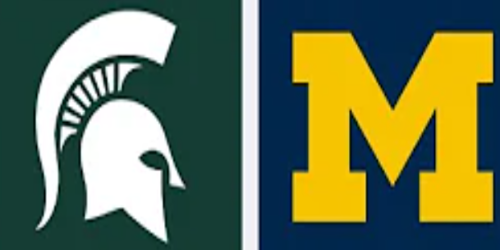 This would be a more hyped game, one of the last one of the regular season, but after Thursday's beat down, it won't get much traction. Michigan State was outplayed almost the entire way in Ann Arbor, eventually losing 69-50 in a game that was never competitive in the second half.
Because of that result, most bettors will likely lean to the favorite since the spread opened just over 10 points. The question is if you want to bet Michigan again on the road only a few days after the first meeting. The answer is probably yes unless MSU looks like a different team.
While the first meeting was tainted by early fouls, the Wolverines superior play shined through as all five of their starters had at least nine points. As for the Spartans, only Aaron Henry managed more than six points and that's the reason it was never competitive. 
The biggest advantages for the Wolverines is big man Hunter Dickinson and their elite defense, currently ranked fourth in the country in terms of adjusted efficiency.
That defense showed up from the start Thursday, as MSU didn't score until four minutes in and eventually went 0-for-9 from three-point land for the game. MSU's three-point shooting has been an issue all season and it hurt them against an elite defense, something that could happen again in the rematch. 
As for Dickinson, he dominated the paint even after early foul trouble. He finished with 14 points and 10 boards in 24 minutes, while no one else on Michigan State had more than five rebounds.
Marcus Bingham has the length to deal with Dickinson, but he also gives up more than 30 pounds, while everyone else on MSU's roster comes in at around 6-8. Unless they can figure out some double teams and also stop Michigan from making threes, that will be a problem again.
It didn't help in the first game that Franz Wagner made four threes, his highest mark of the season en route to 19 points. When Michigan is making threes, they're almost unstoppable because of how they play defense.
Otherwise, it was clear the Wolverines had a few matchup advantages other than Dickinson. Isaiah Livers often got good looks, while Eli Brooks and Mike Smith got easy looks near the hoop multiple times.
For the Spartans to have a chance, they'll need to have one of their better games of the season on both ends of the court. There's a chance they play tight defense, limit Dickinson and hope Michigan doesn't hit threes, but that's a lot of things that have to go right.
Still, in that situation, Michigan State will need to score. Henry might be the best player on the court and that has to show from the start because they don't really have anyone else who will step up.
Joshua Langford tends to force shots against better defenses, Gabe Brown is hit-or-miss and everyone else has been mostly invisible this season. Rocket Watts gets a lot of attention because of his name and how he played last season, but he's been below average on both ends of the court this year. 
To win, Henry will need to hit at least 20 points, while Langford and Brown make open shots. In the first game, Langford was 2-for-10 from the field and Brown missed both of his shots. It'd also help if Watts started attacking more, but since it hasn't happened all season, that's nothing to rely on.
The spread between Michigan and Michigan State is similar to the first meeting and there's a chance it goes up. The Wolverines have a number of advantages in terms of matchups and it'll take a special performance from the Spartans to not only win, but also to simply stay competitive the entire way.
Michigan 74 Michigan State 64