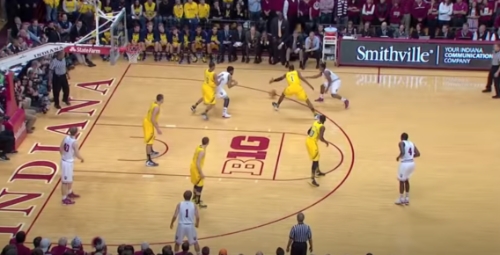 It's been a weird season, but Michigan is one of the few teams to make it out alive following a COVID-19 pause.
The Wolverines sit with a large edge in the Big Ten standings and unless something crazy happens, they'll win the conference by multiple games. The same can't be said for Indiana, which is on the NCAA tournament bubble and needs a couple more wins to ensure it gets there.
The Hoosiers haven't won more than two games in a row this season and that'll likely remain the case unless they go on a run in the conference or NCAA tournament.
They simply haven't put everything together on a week-to-week basis and playing one of the more consistent teams in the country isn't going to help.
The big issue for Indiana in this game is its defense, which ranks near the bottom in the conference, compared to Michigan, who have a top-10 offense in the country based on adjusted efficiency.
If one player is having a bad game for Michigan, someone else usually steps up and that's why the Wolverines are atop the conference.
The first problem in this game is Hunter Dickinson, who will have a massive height advantage, averaging 15 points and 7.8 boards per game. Even as a freshman, he's dominated most opposition and there's no reason to think he won't win this matchup.
Trayce Jackson-Davis may be more athletic and cause issues on the other end, but he makes a point not to get into foul trouble and that won't help against Dickinson, who should dominate in the paint. Even in Indiana's wins against Iowa, Luka Garza still had decent success.
Otherwise, Dickinson is surrounded by a roster full of guys who can shoot and create shots for teammates. Isaiah Livers and Franz Wagner are next in the scoring department, but Eli Brooks and Mike Smith usually come through when needed and Chaundee Brown recently dropped 15 points in the win against Ohio State.
Completing Michigan's team is its defense, which also ranks near the top 10 in the country. This is the end Indiana needs to have success in if it wants to win because it's hard to see Michigan being held to below 70 points.
Jackson-Davis has better numbers than Dickinson, averaging 20.2 points and 9.4 boards per game, but that's mainly because he's a focal point of the offense. There are guys around him, but almost everything goes through Jackson-Davis when things are going well.
His goal will be to work Dickinson early and hope to draw a couple fouls. If he has trouble with Dickinson's height, Indiana will need everyone else to step up and it's rare when its guards all have a good game.
Armaan Franklin and Al Durham both average double figures and Rob Phinisee will step up at times, but none of them are consistent. The same goes for power forward Race Thompson, who will likely be marked by Livers.
Consistency has been an issue for Indiana all season and facing a team who can match up at every position isn't going to help. Making things worse is that Franklin left Wednesday's game with a leg injury and could miss this one, hurting an already small bench.
The Hoosiers have lost four of their last six at home and given how the Wolverines have looked all season, most of the money will likely come on the road team. If Jackson-Davis doesn't win the battle against Dickinson down low, it'll be up to Indiana's guards to win it and that's too much to ask for from that group.
Score Prediction – Michigan 70 Indiana 67