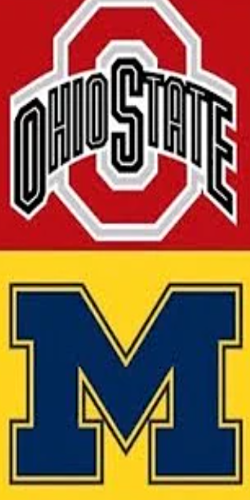 Annually one of the biggest games of the college football season, the basketball game between Michigan and Ohio State could be just as big. Both were given No. 1 seeds in the NCAA's initial top-16 reveal last weekend and will have a chance to hold onto that ranking with a win in this game.
This is Michigan's third game since its three-week pause, so rust should no longer be an issue. The Wolverines still have just one loss this season which came at Minnesota without shooting guard Eli Brooks. They've won their other four road games by at least eight points, including a 17-point beat down at Purdue. 
Ohio State has been similarly dominant at times, beating Indiana by 19 points in its last home game. An afterthought on the national radar at the beginning of the season, the Buckeyes have won 10 of their last 11 games.
This game also begins the gauntlet to close the season as this one is followed by rematches against Iowa and Illinois, two teams they already beat.
These teams are near the top of the rankings because they are solid on both ends of the floor and do a variety of things well. Michigan has a top-10 team in the country in terms of both offensive and defensive efficiency, while Ohio State's offense is slightly more lethal, ranked fourth in the country.
The outlier is that OSU's defense is somewhat lacking with its best trait being three-point defense, something that may not matter in this game.
The Wolverines are shooting the ball well from outside, but it's not what they rely on to win. Big man Hunter Dickinson is dominant in the paint, averaging 14.9 points and 7.7 boards per game.
He's surrounded by a slew of all-around players, with Isaiah Livers and Franz Wagner the other leaders in terms of scoring. Livers has scored at least 20 points in three of the last four games, while Wagner has taken a bit of a backseat in scoring in those games, but is still averaging 12.1 points and 6.7 boards per game.
Guards Eli Brooks and Mike Smith aren't huge offensive weapons, but they'll hit shots when needed and neither one of them turns over the ball too much.
The big question for OSU is if it can stop Dickinson down low. Based off the numbers, the answer is probably not. The Bucks ranks ninth in the conference in terms of two-point defense, likely because their tallest player is only 6-8.
While height isn't everything, it doesn't help when other teams throw out 7-footers, though they did a solid job on Luka Garza in the first meeting. If EJ Liddell and Zed Key can keep Dickinson away from the basket, that'll help and be a start to stopping Michigan.
Otherwise, the Bucks matchup fairly well with Kyle Young and Justice Sueing possible antidotes against Livers and Wagner. They also have a more potent backcourt, at least offensively because of Duane Washington, as well as veteran CJ Walker.
The problem is that because OSU matches up well defensively, that also means Michigan can match up well on the other end. But again, the question will be if Dickinson can keep up with the more athletic Liddell, who isn't afraid to stretch the floor and shoot from deep. 
Each team has an advantage down low on the offensive end, while everything else looks pretty even. Ohio State has the bodies to stop Livers and Wagner, while Michigan's elite defense could be a problem for Washington at point guard.
The Buckeyes get the edge at home, but this is expected to be a close game throughout with the edge possibly going to whoever wins the battle between Dickinson and the OSU bigs.
Predicted Score – Ohio State 73 Michigan 71