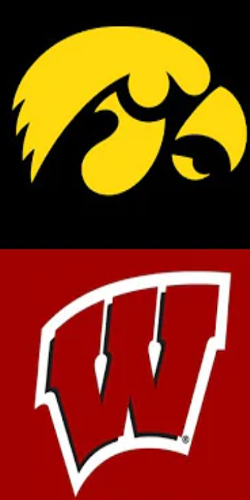 It's the last game of the regular season, but both of these teams still have some work to do. Iowa has a slight chance for a 1-seed in the NCAA tournament, while Wisconsin needs to get back where it was earlier in the season, having lost four of its last five.
While this is a big matchup between two ranked Big Ten teams, it wasn't really close when they met a couple weeks ago. Iowa got out to a quick 14-3 lead and never looked back in a 77-62 win.
The lone thing going for Wisconsin is that it's hard to see Iowa going on three different runs of 10 or more points like that first meeting. Then again, given how dominant Luka Garza was, totaling 30 points and eight boards, the same thing could happen.
The defensive flaws have popped up in the second half of the season for the Badgers, as they don't have a true center. Micah Potter and Nate Reuvers both come in at close to seven feet, but neither of them can be considered true centers in a conference dominated by big men.
That's the reason Garza dominated this matchup the first time. He controlled the paint and also stretched the floor with four made threes. Unless Wisconsin figures something out defensively, Garza is expected to dominate again.
The best path for Wisconsin to win is if it plays the same way and Iowa doesn't hit as many shots. Garza was the only Hawkeyes player to make more than one field goal inside the arc in that first game, as they went 12-for-19 from deep, led by second-leading scorer Joe Wieskamp.
That probably won't happen again, but neither will Iowa's struggles inside the three-point line. While Iowa recently lost some guys to injury, this is still one of the best offenses in the country with Garza and Wieskamp surrounded by numerous shooters in Jordan Bohannon and CJ Frederick, while Keegan Murray added 12 boards in 22 minutes in the last game.
The big thing for Iowa of late has been an improvement on the defensive end, which is why they won the first meeting and why they held Ohio State to 57 points last weekend.
Unfortunately for Wisconsin, it also was on fire from deep in that first game, going 13-of-34 from three. Of course, they also went a miserable 8-for-36 from two-point land, which can't happen again if they want to have a chance.
Offensive success starts with Micah Potter, who had a quickness edge against Garza in that first meeting, totaling 23 points and 11 boards. Garza dominated on one end because of his size, but Potter also used that to his advantage to lead his team in scoring.
But even if Potter can repeat that, D'Mitrik Trice will have to do better than the 3-for-15 shooting he had in that first matchup. Trice leads the Badgers with 14.1 points per game and needs to hit that number every game for this team to have a chance at winning.
The problem is that his scoring has slowed down and he's hit 14 points in just three of the last 13 games. Clearly, that has to change if this team wants to do anything in upcoming tournaments. 
Otherwise, scoring is mostly sporadic for the Badgers, as Brad Davison, Reuvers, Aleem Ford, Jonathan Davis and Tyler Wahl are all hit-or-miss as possible third scoring options. If they can't win the defensive battle in the paint, they need to have another scorer and that's been a problem.
The Hawkeyes are at home, have the matchup advantage and are playing well. It'll be hard to bet against them in this spot unless you believe the Badgers can somehow stop Garza, the expected National Player of the Year.
Iowa 76 Wisconsin 67