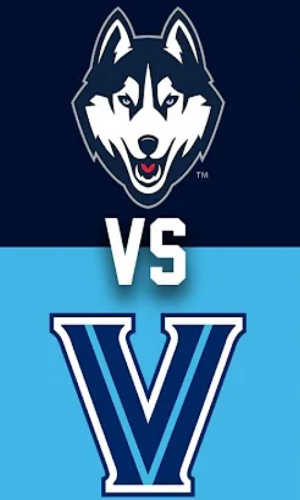 Everything seems to be back to normal for both Connecticut and Villanova, and they hope that remains the case. The Huskies finally got their best player back from injury last week and the Wildcats haven't had a COVID-19 issue in a couple weeks.
In a normal season, this may be a bigger matchup, but instead, it's going a bit under the radar, though it's still on FOX.
Villanova is favored and home, but that number doesn't fully take into account the recent absence of James Bouknight, UConn's best player. He missed a month because of an elbow injury and the only game UConn has lost with him in the lineup is an overtime game against Creighton, a team that just beat Villanova.
Bouknight played 24 minutes off the bench Tuesday and should be ready to start this one, averaging 20.0 points and 5.1 boards in the seven games he's played. His presence changes everything for the Huskies because he can usually get whatever shot he wants.
It also helped that everyone got a bit more attention in the last month in Bouknight's absence. Tyrese Martin and R.J. Cole turned into scorers and will now have less pressure to perform. The same goes for big men Isaiah Whaley and Tyler Polley, who no longer have to worry about being called on to make a bucket late in games. 
The other piece to UConn's future is its defense, which ranks No. 1 in the Big East in terms of adjusted efficiency. Matched up against Villanova, the No. 1 offense, this will be a fun matchup and one that shouldn't get out of hand. The Huskies have a group of athletic bigs and a decently-sized backcourt that should give 'Nova some problems.
The Wildcats have yet to lose at home, but they've had some close games, like wins against Georgetown and Seton Hall. But unlike UConn, who can rely on Bouknight too much, Nova has a group of guys who can score when needed.
Big man Jeremiah Robinson-Earl leads the team with 15.6 points per game, while four other guys are above 10 points per contest. All of them can stretch the floor, which seems to be the problem for most defenses when all five guys on the court can shoot threes.
They have a little bit of everything in their lineup, from senior point guard Collin Gillespie running the show to Justin Moore, Jermaine Samuels and Caleb Daniels, all of whom can guard most positions on the floor.
The advantage for Villanova may be that UConn's three-point defense is mediocre. UConn excels defensively because it blocks a ton of shots and doesn't foul. That's a good recipe for defensive success, but you're not going to block a lot of three pointers, which is where Villanova may have the biggest edge, hitting a conference-best 39.4% of its threes.
Bouknight is back and pushes UConn over the top into NCAA tournament worthy, but he may still be rusty and even if not, this is a tough matchup. When Villanova hits shots, it can beat anyone at home by double-digits. If not, that could be where UConn comes in with a chance for an upset, led be Bouknight, who already scored 40 points against Creighton earlier this season.
Predicted Score – Villanova 73 UCONN 63