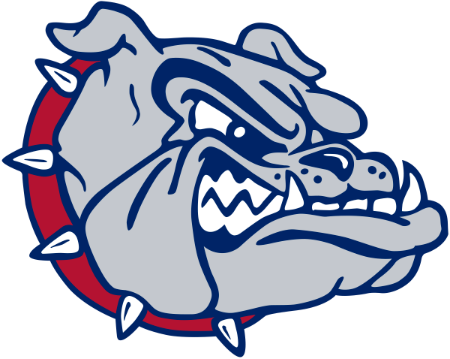 You know this matchup is expected to be good because it's the first time Gonzaga is smaller than a double-digit favorite since December. They were early -8.5 point favorites against USC with an over/under of 155.
This is the rare matchup that features two extremes going against each other. Gonzaga has a historically high two-point percentage (63.5%) and faces a historically good two-point defense of USC (41.5%). Of course, that won't be the major talking point, as the Bulldogs are still undefeated and the favorite to cut down the nets in the Championship.
On paper, this is one of their more difficult games of the season, unsurprisingly, but they've already shown they can destroy good competition, beating Kansas by 12, Iowa by 11 and Virginia by 23 earlier in the season, in addition to the last few tournament games.
They seem to either blow out their opponent and even when it's close, their offense is ultimately too much to overcome.
The fun part about this game is that USC is playing its best basketball of the season, dismantling both Kansas and Oregon in games that seemed to be over by halftime. The Trojans already played a WCC team this season, beating BYU by 26 points in December. While BYU put up some fights against Gonzaga, it still lost all three games by double digits.
If USC continues to score like it has been, this game should be close. Gonzaga's weakness is defense even though it ranks seventh in the country in terms of adjusted efficiency. It allows points because of its preferred pace of play, though it's likely the Trojans will try and slow things down to get the Zags off their usual game.
The biggest matchup will be the one inside the arc, as USC boasts two high-level bigs in brothers Evan Mobley and Isaiah Mobley, the former is in the running to be the No. 1 pick in the NBA Draft. Both provide height and length in the paint, hence USC's dominant two-point defense, as they combine for four blocks per game.
They also can score in a variety of ways, including from the three-point line. Evan leads the team with 16.3 points per game and Isaiah is averaging 15 in the tournament. Throw in what has been a good variety of guard production and help off the bench and it's easy to see why the Trojans are here.
Tahj Eaddy runs the show and averages 13.7 points per game, but Isaiah White has gone up another level in recent games, scoring 22 against Oregon. Drew Peterson and Ethan Anderson do the little things, including hit threes, while Chevez Goodwin is another big who can spell the Mobleys.
The Zags aren't as big as USC, but they still have enough size for that not to be a major issue. Drew Timme has probably his toughest task of the season against the Mobleys, while Corey Kispert will likely have to take one of them unless they play bigger with Anton Watson off the bench getting more minutes.
The big thing for those guys is to not get into foul trouble because while their starting five is dominant, they don't have much of a bench. Their positive compared to USC's prior opponents is that Gonzaga has size at the other positions, so bigger guards like White and Peterson won't have the same advantages.
While both ends of the floor could decide how things play out, more will be talking about Gonzaga's offense against USC's defense. The Zags have been unstoppable this season because they have a big in Timme, who can seemingly get any bucket he wants because of the team's drive and dish attack.
Everything around him is a well-oiled machine, as Kispert averages 46.2% from distance and all the other starters are willing to shoot. Jalen Suggs is a future lottery pick, but he hasn't had the best tournament, while Joel Ayayi and Andrew Nembhard are big guards who will drop 20 points if the matchup is right.
Gonzaga has been the more consistent offensive team this season, but it hasn't really faced a defense like this with two towers roaming in the paint. There's always the chance USC's offense goes cold, like it has at times this season, but if not and it shows up on the biggest stage, this one should come down to the wire.
Check back for score predictions