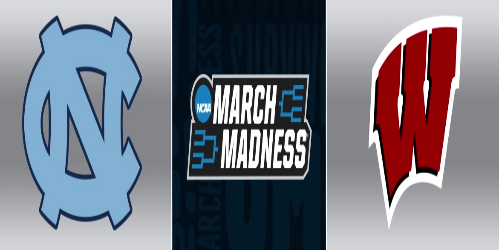 A couple big basketball brands face off in an 8-9 matchup and while Wisconsin ranks better in the metrics, North Carolina is a small favorite, mainly because of the way it closed the season.
But while the Badgers have lost seven of their last 10 games, it's hard to fault them for losing the games they did, as all of those losses were against teams given a 4-seed or better.
The talent of the Tar Heels will be on the tip of the tongue for many, as they have a ton of upside thanks to numerous five-star recruits. But that upside wasn't often seen and their best wins came against the likes of Florida State, Duke and Virginia Tech.
Out of conference, they lost to both Texas and Iowa early in the season. In their biggest spots, they lost by double digits to teams like Clemson, Virginia and Marquette. 
Badgers Lost to Best of Big 10
Of course, it's not like the Badgers have any better wins. They lost against all of the Big Ten's best competition, and their best wins are on the road against MSU, Maryland and Rutgers. That's good, but not great.
The clear difference in this game is size, something that has plagued Wisconsin all season and something North Carolina continues to rely on. The Badgers are mediocre at best in terms of rebounding while the Heels led the ACC in offensive rebounding. That's because they have four guys who are bigger than just about everyone for Wisconsin.
Armando Bacot is having the most success of late and averages 12.2 points and 8.0 boards per game, but Garrison Brooks, Day'Ron Sharpe and Walker Kessler have all had their moments of glory.
Brooks was the preseason ACC Player of the Year and while that didn't come to fruition, he still supplies the experience needed against a team like Wisconsin, one that's built on juniors and seniors.
Wisconsin struggled against size almost every game in the Big Ten, since Micah Potter and Nate Reuvers are their only real bigs. Neither are true centers, which is something that'll be a problem in this matchup.
UNC Can Work the Paint
Even if UNC's guards struggle, they should still be able to work the paint. The Heels have lost games because sometimes their guards haven't been enough, whether it's Caleb Love, R.J. Davis, Kerwin Walton or Leaky Black.
None of them are huge scorers and able to take over games, which sometimes doesn't matter when you have guys like Bacot and Sharpe wrecking opponents in the paint.
Since Wisconsin is unlikely to hold up down low, it will need to win this game through offense, something they aren't really known for, as they rank 11th in the Big Ten in terms of effective field goal percentage.
Their main chance in this game is if Potter has one of his better outings by stretching the floor, forcing UNC's bigs to guard on the perimeter. He's had big games because of similar matchups and should be fed as much as possible, similar to recent games against Iowa and Luka Garza.
Badgers Unpredictable
Otherwise, the Badgers are a bit unpredictable, mainly because D'Mitrik Trice hasn't been as consistent as needed as the team's leading scorer at 14.9 points per game. He's always in play to drop 20 because of shooting, but he's failed to hit his average in 12 of the last 15 games.
That's why Brad Davison has taken up a bigger offensive role, which doesn't feel like a safe thing to bet on. To win, the Badgers need everyone to step up, with guys like Aleem Ford, Jonathan Davis and Tyler Wahl all needed on both ends. 
It's usually not as simple as taking the bigger team to win, but Wisconsin's offense isn't good enough to pull away in this game even if UNC doesn't have an easy time scoring. Unless the Badgers stay out of foul trouble and Potter hits threes, it's hard to see them leaving with a win.
Here are the score predictions from our model.
Wisconsin                139.0          66   NEUTRAL 
North Carolina            -2.0          68 

using full season data


  
Wisconsin                139.0          66   NEUTRAL 
North Carolina            -2.0          79 

using data last 4 games


  
Wisconsin                139.0          68   NEUTRAL 
North Carolina            -2.0          76 

using data last 7 games