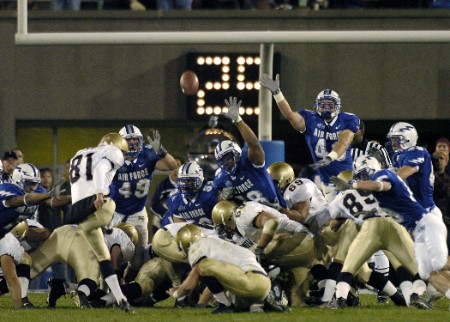 It's been hard to get a good read on both Air Force and Navy in the early season because their schedules have been up and down.
The Falcons are 3-1, but they're 2-2 ATS, while the Midshipmen haven't played anyone relevant outside of Memphis, who they lost to. That's why this spread was smaller with the Falcons a -3.5 point road favorite with an over/under of 45 as of Wednesday.
It may be best to throw out last year's result because Navy doesn't look like the same team, at least through three games. Air Force did whatever it wanted in the 35-7 win, rushing for 257 yards, while keeping Navy to 129 rushing yards. Considering Navy has won the last three meetings at home between these teams, revenge will surely be on its mind.
So far, the Midshipmen appear back to normal after last season's three-win debacle. After a few games last year, they decided to move Malcolm Perry from quarterback to a tailback position and it didn't work. And so, Perry is once again the guy in charge leading the way with 257 rushing yards on 4.7 yards per carry.
More intriguing is that he's completing passes at 17-for-26 and that may be needed against Air Force. Along with Perry, Nelson Smith and CJ Williams have been the top rushers en route to 5.2 yards per carry as a team.
Both Air Force and Navy are allowing less than 100 rushing yards per game, but again, the early schedules have been hit-or-miss. Either way, it won't be easy for either triple option to get going with both allowing less than 3.1 yards per carry. While the Falcons ran wild last year, it's hard to see that happening again, especially on the road.
That said, Air Force is probably a bit more dynamic than Navy with Donald Hammond III at quarterback. He has similar passing numbers at 18-for-32, but he's not the main runner in the triple option.
Hammond has a decent 5.0 yards per carry for 135 yards, though it's tailbacks Kadin Remsberg and Taven Birdow leading the way for a combined 680 yards. Hammond was the guy in last year's matchup, rushing for three touchdowns in addition to throwing for 142 yards on six completed passes, but it'll be hard to repeat that.
This has been a fairly straightforward matchup of late with the home team winning the last six games and the under going 6-1 in the last seven. Air Force was an underdog in last year's matchup and ran away with it early.
This has the makings for a Navy rebound, assuming its defense is as good as it's looked. Sure, losing to Memphis was tough, but they are one of the best teams in the AAC. The Falcons are 21-5 ATS in their last 26 non-conference games, while the Midshipmen have failed to cover in their last four against the MWC. 
Our Pick – Navy +3.5