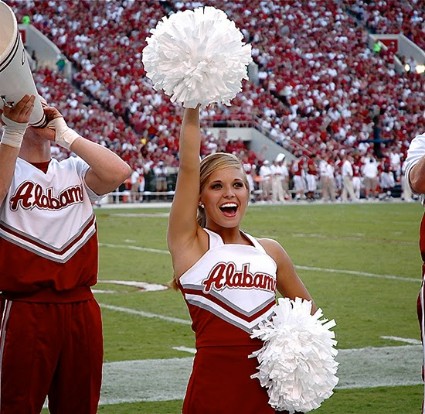 After dipping its toes into the SEC last week, Alabama has another non-conference game against one of the C-USA's best, Southern Miss. The Crimson Tide didn't cover a 47-point spread when these teams met five years ago in a 52-12 win, and that's near where this spread opened at -39 points with an over/under of 60.5.
It's reasonable to compare this game with USM's 38-15 loss to Mississippi State a couple weeks ago. The Golden Eagles went down 21-0 in the first half, but had a couple long plays and got a couple scores in the second half. While they held Miss. State to 38 points, they couldn't really stop anything and didn't cover the 16.5-point spread. 
Can Southern Miss Hang 20?
For USM to cover this game, it'll need some offense, similar to South Carolina last week. There's a path to scoring points as the Gamecocks showed and it wouldn't be surprising if the Golden Eagles put around 20 points on the board with a couple late scores possible.
That's because this offense is pretty good for a smaller team as quarterback Jack Abraham is completing 71% of his passes on 11 yards per attempt. He threw a couple picks against MSU, but still completed a few long passes and Alabama's defensive injuries can't be ignored.
The problem for USM is its ground game which is averaging just 3.2 yards per carry (sacks included) and none of its running backs have more than 88 yards. When you're one-dimensional against Alabama, that usually doesn't work. South Carolina threw the ball 57 times last week, yet still got a couple big runs to give some different looks.
Tide Might Reach Total (60) By Themselves
The other problem for Southern Miss is that it'll probably allow 50-plus points with 60 on the table as long as Tua Tagovailoa plays long enough. The Eagles got a huge win last week, but gave up 42 points in the process to Troy and that's not going to work against Alabama.
Tagovailoa has similar numbers (76.9 % completion, 11.1 ypa) to Abraham except he already has 12 touchdowns and no interceptions. It's hard to see USM's defense keeping up with the likes of Jerry Jeudy, DeVonta Smith, Henry Ruggs and Jaylen Waddle.
Over the Total May be the Way To Bet
Given the success those guys have had against better defenses, it's unlikely USM has the speed with 50 points all but guaranteed. Then you still have the Alabama rushing game which averages 5.4 yards per carry behind Najee Harris and Brian Robinson. It's been more efficient in previous seasons, but that won't matter in this matchup.
The spread is high, but since Alabama won't have trouble scoring, it'll be attainable. The question is what Abraham and USM's offense can do. The Tide gave up 324 passing yards to a freshman quarterback last week and it wouldn't be surprising if the Eagles got a couple scores.
The over is 4-0 in USM's last four road games and 4-1 in its last five against teams with a winning record. The Crimson Tide have failed to cover their last four September games as the one against Duke came on the last day of August.
Our Pick – OVER 60