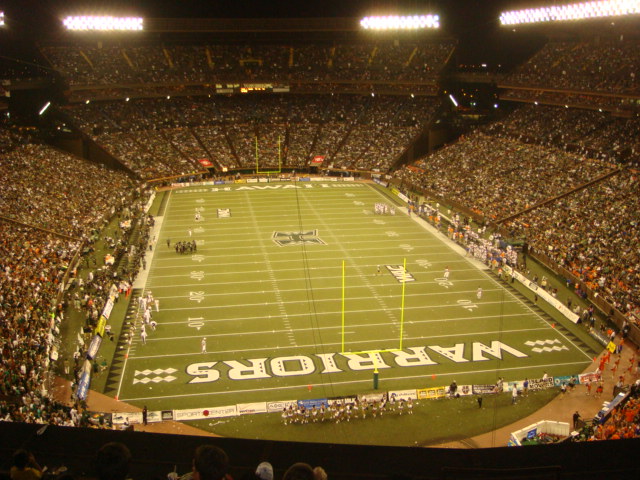 One of two college football games to kick off the season will take place 8/24/19 when Hawaii hosts Arizona as 11.5 point betting underdogs.
Last season Arizona was 5-7 straight up and a slightly profitable 7-5 against the spread. The Rainbow Warriors of Hawaii were 8-6 straight up but a not so profitable 5-7-1 ATS.
Both teams are in great shape in terms of returning talent. The Wildcats return 8 on offense and 7 on defense including the starting QB. Hawaii returns 9 and 9 and the QB.
The Case (or not) for Hawaii
Hawaii had the more successful season of the two a year ago. After a 3-9 2017 season, Hawaii went 8-6 and earned a birth in the Hawaii Bowl where they lost to La Tech 31-14.
One handicapping myth in terms of ATS trends is that Hawaii is a tough place for visiting teams. The theory has always been that there are too many distractions on the beautiful island. Visitors simply aren't focused on the task at hand.
Well, Hawaii is a .500 team at home and a more glaring 27-40 against the spread over the last decade. So much for that theory.
Kevin Sumlin is a Winner
Arizona recruits talent. The Wildcats had winning seasons in 5 of the previous 6 under previous coach Rich Rodriguez. We'll suggest last years 5-7 mark under new coach Kevin Sumlin can be attributed to all of the usual growing pains that come with a new coaching staff.
Sumlin has won wherever he has been. He was 35-17 at Houston from 2008-2011. In 6 seasons at Texas A&M he was 51-26 and didn't have a losing season. Overall Sumlin is 91-50 as a head coach.
No doubt Arizona will improve on last years 5-7 mark. There's no reason to expect anything less than 7 or 8 wins and a Bowl game.
Pay Attention to Class Differences
It's very tempting to make a case for home underdog Hawaii in this spot. After all, the team is loaded with returning starters and in off of a successful 8-6 season. They are getting a bunch of points to boot.
When handicapping college football you always have to take into consideration the class differences between programs. There is a hierarchy in place that will never change. In this case, Arizona is much further up that ladder than Hawaii. Arizona will always recruit better talent.
These two teams have met twice since 1998. Arizona won both, 47-28 in 2016 and 27-6 in 1998. Small sample size, yes. But it illustrates the point.
You can also look back to last year, or any year really, and see how Hawaii has generally been spanked when they step up in competition. Of their 6 losses last season, all but the Army game were by more than 11 points.
Using data from the last 7 games of last season, our score prediction model comes up with a final of 46-28 in favor of Arizona. We agree with the model in this spot!
Our Pick Arizona -11.5