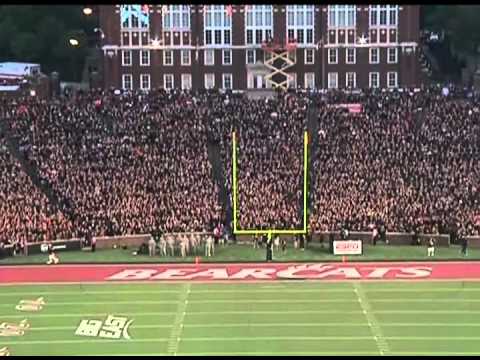 UCLA heads east for a rematch of last years opener against the Cincinnati Bearcats in week 1 college football betting action for 2019. Cincinnati is a -4 point betting favorite as of this early writing in June.
The Bearcats are in off of a fantastic 2018 season that saw them go 11-2 which was capped off with a win over Virginia Tech in the Military Bowl. They were 7-6 against the spread.
UCLA is in off of a dreadful 3-9 season a year ago, their first under head coach Chip Kelly. The Bruins at least did not bury their backers though, posting a 5-6 record against the spread.
UCLA Better Than 3-9 Record of 2019
UCLA's lack of success last season shouldn't be a mystery. Anytime a program brings in a new head coach, who in turn brings with him a whole new staff and system, there are growing pains.
Chip Kelly will right the ship. No one expected that to happen in one year. If you're UCLA, you have to focus on the positives. Those positives would be the three wins plus another four games that were close and winnable. A play here and there and 3 wins turns into 7.
Bearcats Success to Continue
After two consecutive 4-8 seasons, Cincinnati returned to it's winning ways last season with their best season since 2009. They lost to Temple in OT and then lost to #11 UCF by 25 points.
There's no reason to think the Bearcats won't have another successful season with 9+ wins or so. The schedule is a little more difficult this year though, including a monster of a game in week 2 against Ohio State.
They also have to get by this UCLA team in week 1 or potentially face going into week 3 with a 0-2 record.
Can UCLA Score Some Revenge?
Both teams return plenty of talent. UCLA returns just about everyone on both sides of the ball, 9 on offense and 10 on defense. Cincinnati returns 7 on each side of the ball.
This is significant as we can take a look back to last season when handicapping this game. It's worth nothing that week 1's are tough for all teams. However the opener last year for UCLA was even more so, due to the new coaching staff and system.
Despite that disadvantage, UCLA was able to play a very competitive football game against Cinci in week 1. The game was within a TD margin throughout. In fact it was a 19-17 game with less than 2 minutes to go when the Bearcats punched it in to go up 26-17 which was the final score.
Don't let the final records of these teams from a year ago fool you. There's a huge difference between playing in the PAC-12 and the AAC. Cincinnati would not have been 11-2 in the PAC-12. Likewise, how do you think UCLA would have done if they could play the likes of UCONN and East Carolina?
Focus more on UCLA coming within a TD of #10 Washington last season for example. The Bruins have talent. They also have a coach that can win.
Our score prediction model is going to play devils advocate with this one. Using the last 7 games for data, our model predicts a final score of 31-21 with Cincinnati on top. The model is more impressed with what the Bearcats did in that stretch than what UCLA did, despite the more difficult schedule UCLA faced.
We disagree. The feeling here is that there is no reason not to expect a repeat of last years game. In other words, tight and decided late. UCLA has the revenge motive working in it's favor and more importantly they have a year under their belts with Chip Kelly.
This looks like a good spot for the Bruins. We'll never hesitate to take +4 points with an underdog that can realistically win outright.
Our Pick – UCLA +4