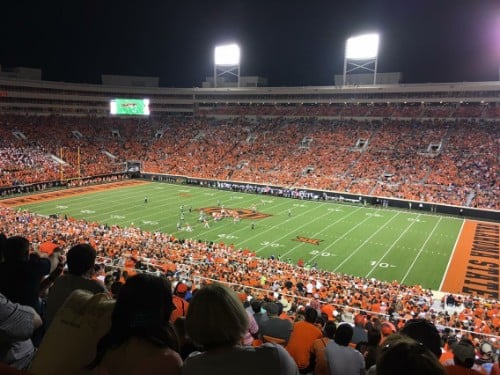 Baylor is one of two undefeated teams remaining in the Big 12, but no one is expecting it to challenge Oklahoma at the top. Even though the Bears host both Texas and Oklahoma, that probably won't matter in the long run, especially after almost losing to Texas Tech last week.
OK State had an extra week to think about its loss to Texas Tech and a home win over Baylor is a good antidote. The Cowboys were early -4 point favorites with an over/under of 68.
This spread is surprising if you look at the records, but not if you look at the underlying numbers. For starters, Oklahoma State has an extra week of rest and is coming off a loss.
Baylor was lucky to win last week and showed some of its flaws against Tech, giving up 30 points in the process. This game will probably be similar to last year's 35-31 win for Baylor except this time OK State is at home.
The Cowboys led most of the way in that meeting, yet the Bears got two late touchdowns and that was it. Both teams rushed for more than 200 yards and it wouldn't be surprising if that happens again. 
The Pokes have been a run-first team all season and that's possible because Chuba Hubbard has been awesome, already with 1,094 yards and 13 touchdowns on 6.8 yards per carry.
Baylor's defense has good overall numbers, but it also gave up 153 yards on 5.5 yards per carry to Tech's running back last week. That's likely where OK State will attack with quarterback Spencer Sanders also joining the fun, as he's averaging 5.0 yards per carry for 426 yards, even though he's been sacked 13 times.
However, winning this game may come down to Sanders, who has had a turnover problem with seven interceptions in the last three games. If that shows up again, it may not matter how much success Hubbard has.
On the other end of that, this is just OK State's third home game this season and its defense beat up K State a few weeks ago. While this group has been bad on the road and giving up almost 30 points per game, it was noticeably better in its lone home conference game.
The Bears run a slightly more balanced offense behind quarterback Charlie Brewer, who is averaging 8.7 yards per attempt for 11 touchdowns and three picks. He has decent numbers, yet threw all three of his interceptions last weekend and has struggled to complete passes in the Big 12.
Because of that, it's a wonder if the Bears will lean a little more on running backs John Lovett and JaMycal Hasty, who are both averaging at least 5.4 yards per carry. 
The Pokes don't have a good defense, but playing at home should give them a boost in addition to them having an extra week of rest. That said, taking them as more than a field-goal favorite will be tough given how consistent the Bears have been at churning out wins.
The under is 6-1 in Baylor's last seven conference games, while the Cowboys have covered their last five at home and last seven against a team with a winning record.
Oklahoma State is 9-1 ATS in the last 10 meetings between these teams played at home and the over is 6-2-1 in the last nine played in Stillwater.
Our Pick – Baylor +4