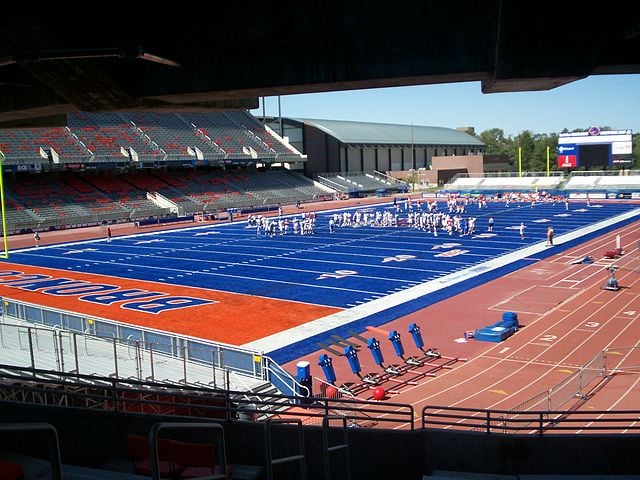 Boise State won 10 games last season which is exactly what their season win total for 2019 is set at for those interested in betting over or under. Those odds are available at betonline.ag.
Boise State once again failed to meet expectations last year even though it reached 10 wins and the MWC title game. The Broncos were expected to contend at OK State and beat SDSU at home, and neither happened.
QB Position Up For Grabs
Injuries hurt, but now they have to replace four-year starting quarterback Brett Rypien. That's the main talking point heading into the season.
Quarterback was a toss up in the spring and won't be decided until the fall. Last year's backup Chase Cord should be ready after tearing his ACL in October, but Jaylon Henderson and stud freshman Hank Bachmeier are just as likely to win the job with the latter having the best chance.
In the end, quarterback may not matter much in half of BSU's games because of everyone else on the team. The line returns all five starters from a group that got things going in the second half of 2018.
That should lead the way for whoever carries the ball, whether it's Andrew Van Buren (34 carries), Robert Mahone (32 carries) or someone else.
Receiver should be loaded as well even with some new faces. John Hightower (16.3 yards per reception, 20.4 yards per carry) is a play maker, while Khalil Shakir steps into a bigger role with CT Thomas (535 yards).
Jeff Schmedding New Defensive Coordinator
The biggest worry for the defense is that coordinator Andy Avalos moved on to Oregon. Jeff Schmedding takes his spot after being with Eastern Washington the last 15 seasons. He has plenty of tools to work with so this group could end up improving after allowing 22.1 points per contest.
To go with Curtis Weaver (9.5 sacks), David Moa returns from injury and nose tackle Sonatane Lui leads the rush defense.
Health will be important at linebacker with Riley Whimpey and Ezekiel Noa talented, younger options.
The secondary is loaded with the return of safety DeAndre Pierce from a lacerated spleen to go with Kekoa Nawahine and corner Avery Williams.
Depth may be a question at some spots, but this defense could still improve if it can stay a little healthier.
10 Wins on the Table Once Again
Head coach Bryan Harsin still has his team in a good spot, but a question at quarterback could easily derail things, even with a favorable schedule. The late trip to Utah State could decide the Mountain division, but Boise faces the three worst projected teams out of the West division, including trips to UNLV and SJSU.
Even if the Broncos lose in the opener to Florida State (opened +4) and at BYU in the middle of the season, they could still hit 10 wins before the postseason.
Outside of the USU game, they should be heavy favorites in every MWC matchup. If they can figure out quarterback and get that early win against FSU, this team could finish with a better record than the recent ones led by Rypien.
Boise St opens with Florida State. Here's our Seminoles Betting Preview
Want more Boise State Football Info? Check out https://www.obnug.com/
2019 Boise State Broncos Football Schedule
Aug. 31 vs. Florida State (TIAA Bank Field, Jacksonville)
Sept. 6 vs. Marshall
Sept. 14 vs. Portland State
Sept. 20 vs. Air Force
Oct. 5 at UNLV
Oct. 12 vs. Hawai'i
Oct. 19 at BYU
Nov. 2 at San Jose State
Nov. 9 vs. Wyoming
Nov. 16 vs. New Mexico
Nov. 23 at Utah State
Nov. 29 at Colorado State