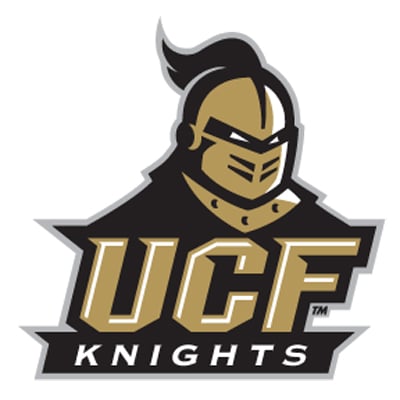 The betting line has UCF football's season win total for 2019 set at 10 and odds are, they'll get at last that many W's. You  can bet that prop at betonline.ag.
Despite losing its coach, UCF won its first 12 games last season before falling to LSU in the Fiesta Bowl.
QB Spot Up For Grabs With Milton Out
The Knights have another hurdle to climb this season with quarterback McKenzie Milton out due to injury.
It's hard to see them reaching 12 wins again, but Josh Heupel's team is still expected to be the best team in the AAC at a minimum.
In place of Milton, UCF has a quarterback battle on its hands that likely won't be decided until the fall. Last year's backup, Darriel Mack Jr., struggled to complete a pass against LSU, but still got valuable experience in the final two games. He has to compete with Notre Dame grad transfer Brandon Wimbush, who has a bit more experience under center, though lost that job early in 2018.
Whoever wins the competition has an array of talent to work with as top three running backs Greg McCrae (1,182 yards, 8.9 ypc, 10 TDs), Adrian Killins (715 yards) and Otis Anderson are all in the mix.
Receiver is fairly stacked as well with Gabriel Davis (815 yards, 7 TDs) and Tre Nixon (562 yards) the top options.
Outside of QB, the biggest question for this offense is on the line where three starters return. It won't be a weakness, but they have some new spots to fill.
Front 7 Could Be An Issue
The defense takes a bigger hit from a group that allowed a lot of yards (424 per game), but not very many points (21.3 ppg). That bend but don't break approach will have to be employed again with a slew of new starters in the squad.
The front seven is expected to be the biggest issue with end Brendon Hayes and linebacker Nate Evans the lone returning starters. Heupel added a few JUCO prospects and a ton of freshmen, so there are guys in waiting, they're all just a bit inexperienced.
Fortunately, the secondary is stocked with lock-down corners Brandon Moore and Nevelle Clark to go with safety Richie Grant. That unit will again be a strength, though run defense remains a problem after allow 227.4 rushing yards per contest.
Knights Should Still Be Top Dog In AAC
The Knights are working in a new quarterback, but with the talent around him, they should still be the top team in the AAC. Beating Stanford (opened +2) and Pitt will be difficult in non-conference play, yet they aren't impossible tasks, especially with the Cardinal game at home.
UCF's main issues in the schedule are trips to Cincinnati and Temple, two of the top squads in the East division. But given how the last two years have gone for this team, there's no reason to think the Knights can't win those games.
Sure, they probably won't be as easy if the new quarterback can't match what Milton did or if the defense takes a step back, but that doesn't mean they'll lose multiple conference games. This team is still bringing in enough talent that it should hit double-digit wins again in the regular season.
2019 UCF Knights Football Schedule
Aug. 29 vs. Florida A&M
Sept. 7 at Florida Atlantic
Sept. 14 vs. Stanford
Sept. 21 at Pittsburgh
Sept. 28 vs. Connecticut
Oct. 4 at Cincinnati
Oct. 19 vs. East Carolina
Oct. 26 at Temple
Nov. 2 vs. Houston
Nov. 8 at Tulsa
Nov. 23 at Tulane
Nov. 29 vs. South Florida