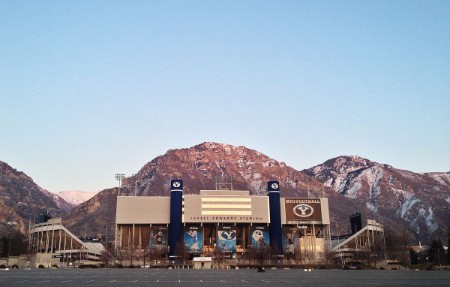 Boise State continues to roll, as they are now 6-0 on the season with their latest win over Hawaii last week, 59-37. The freshman sensation Hank Bachmeirer had to leave the game in the second quarter after a big hit on one of his scrambles.
The coach described the injury as a hip pointer, no report yet on his availability for this week against BYU. Fortunately for Boise they had sophomore Chase Cord step in and play very well, he went 12-18 for 175 yards and 3 touchdowns and most importantly zero interceptions.  
BYU has gone into a tail slide since their 2-1 start that included wins over Tennessee and USC. Now at 2-4 with close losses at Toledo and at USF they are hoping the home crowd this weekend can provide the extra boost of energy needed to take down the Boise State Broncos. 
With the loss of stud freshman QB Zach Wilson for 6-8 weeks with a broken thumb in their game against Toledo, the Cougars went to another Freshman QB in Jaren Hall last week who also had to be replaced after suffering a concussion. 
Fellow freshman Baylor Romney played the remaining of the game. Hall exited with a lead as he led the team in both passing and rushing with 2 total touchdowns, but two 4th quarter touchdowns by USF gave them the lead and Romney and the BYU Cougars didn't have enough to come back.
QB Jaren Hall is listed as questionable this week, as he has not passed through the concussion protocol yet. 
BYU is going to need to rely on their running game Saturday night; they are led by Ty'Son Williams, who has 264 yards and 3 touchdowns this season. 
Boise State's star running back is Robert Mahone, he has 375 yards and 5 touchdowns this year, as he looks to assist the backup QB Chase Cord this weekend.
Our Pick – BYU +7