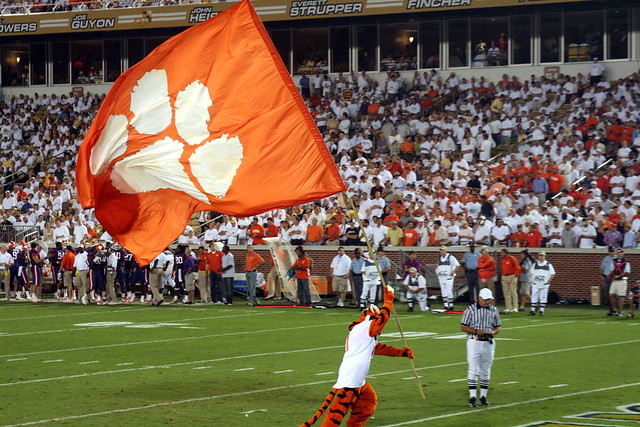 Clemson remained undefeated after their 45-10 victory over Louisville last weekend. Although the 35 point victory looks impressive, it could have been even higher as QB Trevor Lawrence had two first half interceptions in the red zone.
Lawrence now has 8 interceptions on the year, after only having 4 all last season. The Tigers leaned on running back Travis Etienne who had 192 yards on only 14 carries, including 49 yard score in the third quarter.
Boston College got back on track last week beating NC State 45-24, where the ACC's leading rusher; AJ Dillon had a monster game with 223 yards rushing and 3 touchdowns. 
Clemson is in a battle against themselves in this second half of the season, they have no tough matchups remaining, but every team they play will bring everything they got to have a chance at taking down the Goliath of the ACC.
The only ranked opponent remaining is  #25 Wake, the players and coaches have to keep up their spirits and not have a letdown game, like Wisconsin and Georgia in order to make it to the final four. 
Clemson is very balanced on the offensive side of the ball, averaging 257 passing and 247 rushing. Most of their running stats come after they amassed a massive lead and try to run the clock out.
Boston College is a run first team, averaging an impressive 278 yards on the ground, behind AJ Dillon who now has 5 straight games over 100 yards.
The Tigers will get back star defensive end Xavier Thomas as he is projected to return after his concussion. They will need Thomas in order to control the line of scrimmage and slow down Dillon.
Clemson is favored by a massive 34 points this week, seems high by the Tigers have been big favorites all year and are currently 4-2 against the spread. BC was home 4 point underdogs last week and won outright in impressive fashion. 
Although this Clemson defense lost a lot of star power to the draft they still have 4 and 5 stars all throughout and should be able to stack the box and make it tough on Dillon all night.
Young sophomore QB Dennis Grosel will be forced to make plays and seeing that he hasn't passed for more than 111 yards this season it doesn't look good for the Eagles this week.
Predicted Score – Clemson 48 BC 10