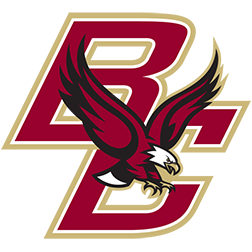 Boston College Football is predicted to win less than 7 games in 2019 if we go by the betting line and the early bettors action. The current season win total line for the BC Eagles is 6.5
Boston College put in another solid campaign under Steve Addazio, reaching a bowl for the fifth time in the last six seasons. While it closed with three losses and had its bowl game cancelled against Boise State, there were still plenty of positives to take away from a 7-5 record.
To help improvement, quarterback Anthony Brown returns after throwing 20 touchdowns and nine picks on 7.4 yards per attempt. He was largely inconsistent, though some of that had to do with returning from a knee injury.
With a full offseason under his belt, the hope is that he can put up better, more consistent numbers. Either way, the offense will go through running back AJ Dillon (1,108 yards, 10 TDs) as long as he's healthy. Even if he's not, the backups are plentiful with Ben Glines, David Bailey and Travis Levy getting reps last season.
The big thing will be for the line not to drop off even though only two starters return. The bodies are there, but a couple underclassmen are expected in the starting group, which could lead to some early struggles.
As a run-first team, receiver is slightly unknown with Kobay White (526 yards) expected to lead the way again, while Glines and Levy serve in some sort of capacity.
Defense could be the bigger question for BC after losing a couple ends to the NFL, while only three starters return overall. This group was middle of the pack last year, allowing 25.7 points per game and it's hard to see improvement.
Tackle Tanner Karafa will try and control the line with new bodies surrounding him. The hope is that the linebacking corps keeps the unit in check with juniors Isaiah McDuffie and Max Richardson running the show, last year's second and third leading tacklers.
The secondary is in a similar situation to the line with sophomore corner Brandon Sebastian being the lone returnee. They have guys in waiting that saw time last year, but moving into full roles always brings questions.
BC needs to win early, which throws another wrench at a younger offensive line. Without wins against the likes of VT, Rutgers or Wake, expecting more than seven wins is a stretch.
The Eagles have to win two of those games because they close the campaign with four of five on the road. It doesn't help that their home games are also fairly difficult between VT, NC State and FSU.
That likely means they'll need a couple road wins to stay competitive behind Clemson in the standings. Throw in new offensive (Mike Bajakian, former TB Bucs QBs coach) defensive (Bell Sheridan, former LBs coach) coordinators and things could be difficult to acclimate with must-win games early.
It helps to have Brown and Dillon on offense, but with new pieces on the offensive line and defensive side, it's looking like another six- or seven-win season for Addazio and BC.
BC is at Clemson on 10/26/19 – Tigers Betting Preview
2019 Boston College Eagles Football Schedule
Aug. 31 vs. Virginia Tech (opened +2.5)
Sept. 7 vs. Richmond
Sept. 13 vs. Kansas
Sept. 21 at Rutgers
Sept. 28 vs. Wake Forest
Oct. 5 at Louisville
Oct. 19 vs. NC State
Oct. 26 at Clemson
Nov. 2 at Syracuse
Nov. 9 vs. Florida State
Nov. 23 at Notre Dame
Nov. 30 at Pittsburgh