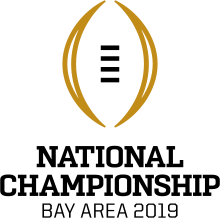 1/7/19
This is the matchup everyone wanted and expected for the CFP National Championship. Both teams have been favored by at least 10 points in every Game this season, which makes this spread even more interesting. Alabama was up to a -7 point favorite with an over/under of 59.5 (at 5Dimes Sportsbook) a few days before the Game at Levi's Stadium, home of the San Francisco 49ers.
Alabama (8-6 ATS) had few problems this season outside of needing a comeback against Georgia in the SEC title Game. The Tide won 13 of their 14 Games by double digits, but their last two have been the closest. Oklahoma was down big early in the semis and put up a fight, but it was only enough to cover. Otherwise, everything kind of went as expected because not only is Alabama's defense still stout, its offense has been one of the best in the country with quarterback Tua Tagovailoa leading the way.
Clemson (8-6 ATS) had a couple scares early in the season, but once Trevor LAwrence was tabbed the only quarterback, there were no issues. The Tigers beat Texas A&M and Syracuse by a combined six points, and then it was domination. They continually allowed single digits while also putting up more than 40 points per Game. That showed up in the semifinal when Notre Dame couldn't do anything offensively and never really stood a chance.
The most talked about unit this season has arguably been Alabama's offense, which has scored 47.7 points per Game. Tagovailoa has been unstoppable with 11.4 yards per attempt to go with 37 touchdowns and just Four interceptions. With a slew of wide outs that can take the ball deep, he hasn't been stopped, though Georgia had Alabama dead in the water until Jalen Hurts turned things around. Five wide outs average at least 17 yards per catch in Jerry Jeudy (1,103 yards, 12 TDs), Jaylen Waddle (803 yards), Henry Ruggs (724 yards, 10 TDs), Irv Smith and DeVonta Smith. Throw in the usual stout rushing attack and it's easy to see why this offense had no problems. Damien Harris (771 yards) and Najee Harris (679 yards) led the way during the regular season, but it was Josh Jacobs who was the lead back in the semifinals with 158 total yards and a touchdown.
While all of those numbers are nice, Alabama hasn't seen a defense like Clemson's, though Clemson hasn't seen an offense like Alabama's. The Tigers allowed just 13.7 points per Game and dominated every aspect from 2.4 yards per carry allowed to 6.3 yards per pass attempt and just 11 passing touchdowns. Defensive tackle Dexter LAwrence won't be playing, but the line still has plenty of talent to work around.
It's almost the same situation on the other end but Alabama's defense and Clemson's offense probably aren't as good. The Tide had solid numbers, giving up 14.8 points per Game, 3.4 yards per carry and 5.9 yards per pass attempt, but this group didn't have the same feel as previous versions as both Georgia and Oklahoma found holes.
That's where Trevor LAwrence comes in with a more methodical approach compared to Tagovailoa. He doesn't have the same numbers, but was plenty efficient with 8.0 yards per attempt, 24 touchdowns and only Four interceptions. He also spreads the ball around with Tee Higgins leading the way with 802 yards and 10 touchdowns, while burner Justyn Ross averaged 20.6 yards per reception. Amari Rodgers and the previous thorn in Alabama's side, Hunter Renfrow, do the rest in the short Game. The most interesting matchup may come on the ground because that's what set up Clemson's passing Game all season. Travis Etienne was unstoppable going for 1,572 yards and 22 touchdowns on 8.3 yards per carry. He did the same against Notre Dame and ran for 109 yards on only 14 carries. If those same holes are there, that will open things up for LAwrence and the passing Game.
This is a fascinating matchup that could be similar to the ones back in 2016 and 2017. With Clemson again having a great offense, there's a chance it turns into a higher-scoring Game with both offenses finding room. When that was the case for Clemson, it covered in both 2016 and 2017, and as long as LAwrence can match Tagovailoa, this should be another fun Game.
The Tigers are 8-1 ATS in their last nine bowl Games and 13-3 ATS in their last 16 on a neutral site, but 1-5 ATS in their last six in non-Conference play. The Crimson Tide are 7-2 ATS in their last nine against the ACC, but 1-5 ATS in their last six Games in January.
Our Pick – Clemson +6