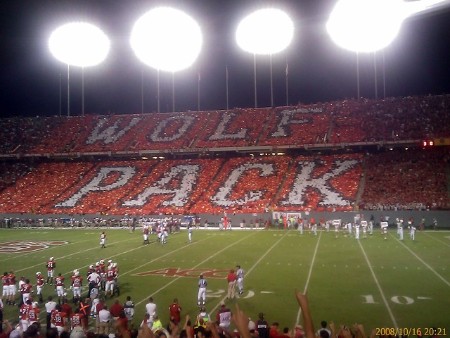 Clemson's onslaught on the rest of the ACC continues this week with a trip to NC State. After receiving a No. 5 ranking in the initial College Football Playoff rankings, there's also the chance the Tigers come out swinging. They were -32 point road favorites with an over/under of 53.5 as of Thursday.
Despite playing on the road, this spread can only go higher. While Clemson struggled at UNC, it also beat Syracuse and Louisville each by 35 points. NC State is roughly on the same level as those teams even if it hasn't lost at home.
That said, losing by double digits to West Virginia, Florida State and Boston College isn't good even on the road. The problem for the Wolfpack is that they may not be able to score in this game as Clemson is allowing 3.0 yards per carry and 11.7 points per contest.
NC State just scored 10 points at Wake Forest and managed 16 in its last home game against Syracuse. They've turned to Devin Leary the last couple games at quarterback and he's provided mixed results.
The freshman threw three touchdowns against BC, but also completed 37.8% of his passes to go with a couple picks against Wake. If he can't complete 50% of his passes against mediocre defenses, it'll be tough for him to complete passes against Clemson.
It doesn't help that the Wolfpack don't have much of a ground game, averaging 4.3 yards per carry with top backs Zonovan Knight and Jordan Houston not finding much room these days.
It's a similar case on the other end even if NC State has respectable numbers, allowing 3.4 yards per carry and 25.4 points per game. Dive a little deeper and they've been bad against any decent team, most recently allowing 89 combined points to Wake and BC.
That should allow for Clemson to reach at least 40 points with 50 within reason. Running back Travis Etienne is quietly putting up ridiculous numbers, rushing for 1,102 yards and 11 touchdowns on 9.0 yards per attempt.
Against Wofford last game, he ran for 212 yards on nine carries, which almost doesn't seem possible. Trevor Lawrence doesn't have as impressive numbers, but he's still an elite quarterback who has thrown for three touchdowns in each of the last four games.
He's looked better after a slow start with top wideouts Tee Higgins and Justyn Ross benefitting.
This has the makings of another blow out and while some may think that Clemson could look ahead to the matchup with Wake next weekend, that's hard to believe. The Tigers aren't worried about anyone and are miles better than every other team in the conference.
Clemson is 8-1 ATS in its last nine road games, while the under is 5-1 in its last six on the road. The under has also hit in NC State's last four home games. The road team is 13-6 ATS in the last 19 meetings between these schools, though Clemson covered in last year's 41-7 home win.
Our Pick – Clemson -32