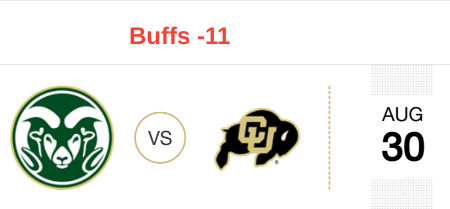 The Colorado Buffaloes are an 11 point favorite over the Colorado State Rams in week 1 college football action. The betting action has been lopsided with the Buffs drawing over 80% of the wagers and over 90% of the money.
Last season the Buffs rattled off 5 straight wins to start their season, including a 45-13 blow out of Colorado State. They then proceeded to fall flat on their face, dropping their remaining 7 games. That resulted Mel Tucker being hired as the new Buffs coach.
Down Goes Bobo
Colorado State had their own issues last season. They headed towards the season as one of the least experienced teams in the nation.
Then, right around mid August as pre season training camp got underway, head coach Mike Bobo was hospitalized. While he technically didn't miss a beat, it was obvious as the season got underway that the Rams were unprepared.
The Rams dropped their first two games including the blowout to these Buffs and never really recovered. They won 3 games all year after 3 consecutive 7 win seasons.
A Once Competitive Rivalry
There was a time not too long ago when this rivalry was very competitive year in and year out. However, Colorado has won the last 4 in this series.
 8/31/2018  Colorado State           13  + 7.5  vs Colorado    45
 9/ 1/2017  Colorado State            3  + 3.5  vs Colorado    17
 9/ 2/2016  Colorado State            7  + 9.0  vs Colorado    44
 9/19/2015  Colorado State           24  + 3.0  vs Colorado    27
We know the Buffs won 45-13 last August. What's interesting, is if we take data from the last 7 games of last season and run our model, the tables turn. Had these two somehow played in a Bowl game for example, our model would have had Colorado State winning by 1.
Value with the Rams – 1st Half and Quarter
Emotion plays a huge role in football. That emotion is magnified in a rivalry game. While emotion may not be able to carry a team for 60 minutes, it certainly CAN carry a team for a quarter or a half.
Considering the way things played out last season combined with the fact that the Buffs have a new coaching staff and schemes, there should be some value backing Colorado State in the first quarter and half.
Our Picks – Colorado State + in the 1st quarter and 1st half.