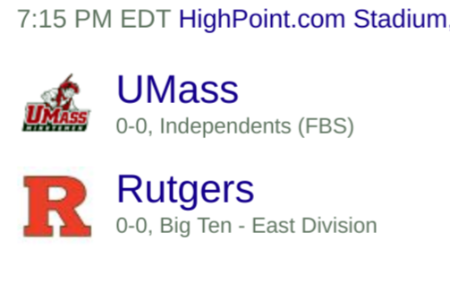 On June 8th, Betonline opened Rutgers as an 11 point favorite over UMASS in a week 1 college football game that takes place on August 30th, 2019. Since that time, that line has moved to as high as -16 in some spots.
A whopping 92% of the wagers that have come in as of mid August have come in on Rutgers. The consensus line as of this writing is -14.5.
A Real Bad Team is a Double Digit Fav
To put this game and line in perspective, Rutgers has odds of 500 to 1 to win the Big 10. They also have a season win total line of 3. What does that tell you about how bettors feel about the Minutemen?
Where do we begin with these two teams?
UMASS was one of the worst defensive teams in the nation last year. They gave up over 500 yards per game and had a yards per point number defensively of 11.2. That ranked 126th out of 130 teams.
But that's ok, their opponent, Rutgers had THE worst offense in the land. They only gained on average, 266 yards per game. Their yards per point number offensively was 19.7. That ranked them dead last. 130th out of 130 teams!
If They Played Last Year…
To say these teams have some work to do would be the understatement of the year. UMASS lost tons of talent and has a new coach. That makes our data from last year somewhat useless.
However, for the record, if this game did place last year, we would have had it close. Basically a toss up. One model we have, had UMASS straight up using last years data.
Some of the pieces for Rutgers are still intact offensively. But, that may be a bad thing. Artur Sitkowski will start at QB. He Finished 2018 with four touchdowns and an FBS high 18 interceptions on 49.1% completions.
That's not exactly the type of offense you want to be laying double digits with. Even against a UMASS defense.
Don't Bet Bad Teams
One of our golden rules of sports betting is to never ask a bad team to do anything for us. Teams are like employees. You're sending them out to do a job for 60 minutes in order to show a profit. Would you hire someone you didn't trust?
Needless to say, we won't be playing this one for real money. However, for the sake of making a pick here, we're going to take UMASS.
UMASS was able to move the ball some offensively last year. They should be able to do so against Rutgers. Offensively, Rutgers figures to run, run and run some more. That should move the clock and potentially keep this within a reasonable margin.
Our Pick – UMASS +16